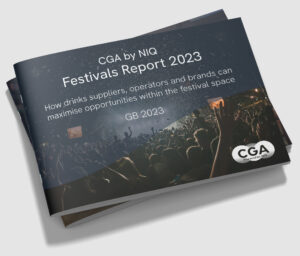 CGA's exclusive new 'Festivals Report' provides in-depth insights into festival-goers' habits and priorities. After three summers of concerns about COVID-19, events could have a bumper year, and nearly nine in ten festival fans plan to attend one, while three in five intend to go to two or three. With a higher than average income and On Premise spend, these people are an affluent group to target.
However, the cost of living crisis means some visitors will be cautious with their spending. More than nine in ten (92%) of people surveyed for the report say they have been negatively impacted by soaring costs, though effects have been 'slight' for 69%. Around a quarter of those most impacted plan to reduce their spend (28%) and visit frequency (23%). More than half (53%) say price is the most important factor when choosing which drinks to buy at a festival—a significant increase of seven percentage points since 2019.
Sustainability is another issue that will be front of mind for consumers at festivals this summer. Seven in ten agree it is important that festivals promote this, and four in five expect events to proactively tackle their environmental impacts.
CGA's 'Festivals Report' has many more insights into consumers' engagement with brands, including their approach to activations. Only half of those surveyed by CGA say they remember noticing activations at past events—a sign that brands' initiatives aren't yet bold and big enough to grab attention in the crowded environments of festivals. This is a missed opportunity, because just over half of festival-goers have tried new drinks there that they hadn't bought previously—making festivals an ideal environment for NPD and innovation.
Lou Finn, CGA consumer research executive, said: "Despite pressures on disposable incomes and rising prices, festival-goers will be ready to spend this summer. However, they will want full value for their money and will be expecting a good range of options and high quality. Brands that can deliver this and provide compelling activations and memorable moments have a great chance to achieve trial and build loyalty. Shouting about sustainability credentials will be another good way to satisfy people who are increasingly aware of the environmental impacts of going to festivals. Understanding consumers' priorities will be key to success, and our Festivals Report has the insights to optimise strategies."
CGA's 'Festivals Report' helps drinks brands and suppliers make the most of sales and branding potential at big events this summer. It features extensive insights into consumers' current attitudes to festivals and live events and what they mean for all those involved in drinks. Download more information here, or contact Lou Finn, CGA consumer research executive, at lou.finn@nielseniq.com.