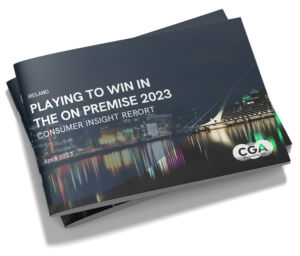 Inflation and cost challenges facing consumers and businesses alike continue to impact On Premise behaviour. The soaring cost of living has resulted in an overall higher average monthly spend amongst Irish consumers compared to last year. 60% of consumers are tightening their purse strings, however, 25% say that less cash in their hand won't translate to going out less. Understanding the motivations held by the core set of consumers that still plan to visit the On Premise is crucial.
'Being with family' is cited as the most important thing in Irish consumers' lives. This is reflected in their On Premise visits, with family occasions topping the list of events they not only go out for but are least willing to sacrifice should a reduction in visits be necessary.
A third of consumers are drinking less alcohol than last year. Plus, half of consumers plan to drink less over the next 12 months. But this isn't solely a result of needing to save money. It's also because a healthier lifestyle is on the agenda of 31% of consumers, for whom health and wellness is a higher priority than last year.
The good news is a large majority of consumers continue to be satisfied with their visits to the On Premise. But rising inflation has made it more challenging for drinks brands and suppliers to give the sense of value for money fundamental to maintaining customer satisfaction levels. After all, 40% of consumers equate value for money with high quality, whilst the majority define it based on superior taste and experience.
Continuing in an optimistic vein, nearly half of consumers agree: 'I enjoy eating / drinking out and would feel disappointed if I could no longer do it.' It's a resounding result, especially compared to just 6% of consumers who disagree: 'I could very easily stop eating / drinking out and it would have no impact on my life'.
Sian Brennan, client director – Ireland said: "Despite ongoing market turbulence, there's no shortage of appetite for the On Premise amongst Northern and the Republic of Ireland consumers. The analytics highlight a preference for quality over quantity, plus shifting lifestyle choices. It's an exciting time for drilling down into the volumes of new and exciting products targeting these trends, perhaps most notably the non-alcoholic version of Ireland's very own ebony nectar! Add family occasions such as birthdays, engagement and anniversaries, which are key drivers for visits to the On Premise. There are clear opportunities to leverage market share and build brand equity by getting the right products in front of the right people on the right occasions."
The Consumer Insights Report uses data from CGA's REACH study to explore consumer behaviour in Northern and the Republic of Ireland, empowering drinks brands and operators to understand how consumer attitudes, motivations and need states are driving On Premise behaviours & category dynamics. Click here to download more information, or get in touch with Sian Brennan – sian.brennan@nielseniq.com