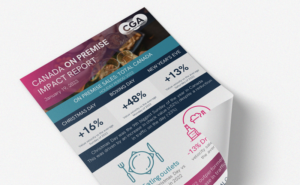 Underpinning the importance for brands and suppliers to gain a deeper understanding of these seasonal trends, the consumer pulse offers thought provoking opportunities to influence consumers' drink choices and more.
56% of consumers change their drink choices with the shifting seasons. Of this cohort, 30% state they drink different categories altogether depending on the season be it beer vs wine or spirits. The other 26% stick to the same category, but rather change the type of category they drink such as pivoting from red wine to white wine.
Comparatively, of all categories, consumers gravitate more towards darker spirits during fall and winter months (35%), including whiskey (32%) and rum (31%). From a total category consumption standpoint, seasonality impacts beer and wine less, although beer consumers express more interest in drinking this category in Spring and Summer months.
Over a third (34%) choose seasonal drinks in the On Premise, like Hot Toddy's, with a similar proportion (36%) actively looking for seasonal flavors, such as pumpkin and gingerbread.
The data shows potential for brands, suppliers, and operators to reap rewards by working together to promote seasonally oriented products catering to consumers changing drink preferences and habits. This makes for a unique opportunity for suppliers to innovate with new flavors and get creative with offerings that consumers can experiment with. Similarly, sales can be increased by customizing the flavors of less popular drinks to seasonal flavors that are more likely to garner the interest of consumers embracing the holiday spirit.
Mitch Stefani, Client Solutions Director – North America: "The Fall and Winter months have key days where the On Premise experiences spikes in check values and velocities. Consumers are actively seeking to experiment when out and catering to seasonal drink preferences is a necessity for suppliers to align consumers with their brands."
The upcoming OPUS (On Premise User Survey) explores in detail consumer preferences of flavors and provides insights into other key On Premise trends and topics affecting the Canadian consumer. To find out more about OPUS, contact Mitch Stefani, Client Solutions Director – Mitch.x.Stefani@nielseniq.com.
To find out more about CGA's Impact Reports, click here to download the information pack, or here for a snapshot of the most recent On Premise Impact Report.