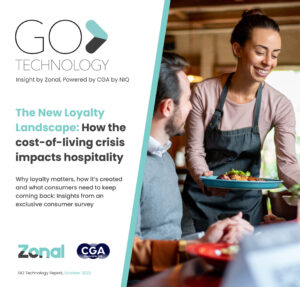 The survey of more than 5,000 UK adults shines a light on the importance of getting experiences right, not just the first time but time and time again. The latest figures also found that more than half (52%) of consumers say they now have higher expectations of the brands they are loyal to due to the cost-of-living crisis, and the figure rises to 64% among those in the 18-to-24-year-old age bracket.
When asked what the main reasons for reducing loyalty were, the following five reasons came out on top:
If I had a few bad experiences (49%)
If they raise the prices (37%)
If I had one bad experience (24%)
If I don't get value for money in the cost-of-living crisis (24%)
If they were involved in controversy (23%)
Whilst loyalty schemes are not the main factors determining whether customers keep returning to a venue, well over half (58%) of consumers said that these schemes represent good value for money and nearly half (47%) of consumers have joined a loyalty scheme to save money since the cost-of-living crisis.
Commenting on the findings, Olivia FitzGerald, Chief Sales and Marketing Officer, Zonal, said: "Brand loyalty is vital to the success of any hospitality businesses – a loyal customer base typically means higher visit-frequency and spend, which drives profit. However, this research shows that, in order to retain customer loyalty, it's not enough to offer cheap prices or deliver good experiences some of the time. Consistently great experiences are the key to success.
"With over half of consumers saying that loyalty schemes represent value for money, operators would benefit from thinking carefully about how to design loyalty schemes that highlight great experiences at great prices. Having a digital loyalty tool in place makes it easy for operators to control accruals, rewards and redemptions, even for completely bespoke schemes. All this feeds into providing those exceptional experiences that customers expect, encouraging them to return time and time again."
Karl Chessell, Director – Hospitality Operators and Food, EMEA, CGA by NIQ added: "In a competitive and cash-conscious market, brand loyalty is more important than ever. But it's also precarious, and something that is hard to win but also easy to lose. Consumers are ready and willing to stay loyal to their favourite brands or venues, but they also know that if they don't get what they want, then there are plenty of other options to choose from.

This research makes clear that operators have no short-cuts to loyalty: it can't be achieved overnight or bought. True loyalty is organic, and organic and is only achieved through relentless focus on the fundamentals of hospitality over weeks, months and years. Consistency of delivery is operators' biggest challenge — but it's their biggest opportunity too."
The GO Technology research from CGA by NIQ and Zonal is based on an exclusive survey of 5,000 nationally representative British consumers, and unlocks many more insights into the use of tech to improve experiences in restaurants, pubs and bars. Click here to access all the latest reports. To discuss the research, email CGA by NIQ client director Andy Dean at andy.dean@nielseniq.com.