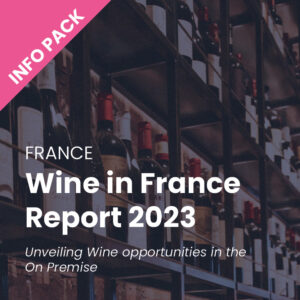 Harnessing consumer data from CGA's On Premise User Survey (OPUS), this report offers an extensive view of the dynamic French wine market. Drawing from a robust sample of 5,000 respondents, it provides valuable insights to capitalise on market opportunities and establish a competitive edge in the On Premise for 2023 and beyond.
This comprehensive report not only explores the in-depth knowledge surrounding the wine category in France, but it also reveals crucial observations about regional consumer behaviours. By closely examining the dynamics at a regional level, this report offers essential data on market size, consumer preferences, and patterns of consumption.
Equipped with insights on consumer spending habits, brand loyalties, factors influencing the choice of wine, and the measures of wine quality, this report serves as a powerful resource for stakeholders. It enables them to enhance their product offerings, formulate precise marketing strategies, optimise distribution channels, and make informed, data-driven decisions regarding pricing, promotions, and marketing efforts.
Julien Veyron, Client Solutions Director – France, said: "In the ever-evolving and highly competitive landscape of the French wine market, staying attuned to evolving consumer preferences and market dynamics is paramount. CGA by NielsenIQ's Wine in France Report goes beyond mere data gathering, providing invaluable insights to assist suppliers, operators, and distributors in making effective decisions and crafting effective strategic plans that can drive business and category success."
CGA by NielsenIQ's research provides actionable insights into brand opportunities across the French On Premise and global markets to help suppliers understand how brands can benefit from their continued engagement. To learn more about CGA's research capabilities and the Wine Reports, contact Julien Veyron at Julien.Veyron@nielseniq.com, or read more about the Wine in France Report here.
Combine the capabilities of the 'Wine in France Report' with the esteemed 'French Wine Across the Globe' report for a comprehensive understanding of the global landscape. To know more, click here.