Click here to read the blog in Italian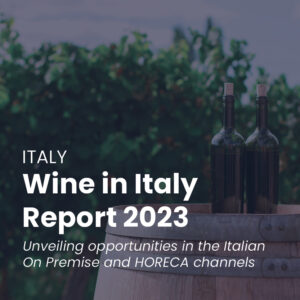 With a sample size of 5,000 individuals, including 2,023 wine drinkers, the report powered by CGA's On Premise User Survey (OPUS) consumer data, offers a panoramic view of the Italian wine market, enabling suppliers, distributors and operators to fine-tune their strategies and decisions for unparalleled success. 
Much like the varied landscapes across Italy, consumer behaviours display their regional hues. With a careful examination of regional dynamics, the report not only delves into the nuances of the wine market within On Premise and HORECA channels, but also lays out insights into market dimensions, preferences, and consumption frequencies.  
With insights into spending patterns, brand loyalties, factors that shape perceptions of wine quality, and the myriad influences guiding wine selections, the report is a powerful tool in the hands of stakeholders to refine their product portfolios, devise targeted marketing strategies, optimise distribution channels, and anchor pricing and promotional decisions on dependable data. 
Daniela Cardaciotto, Senior Sales Consultant – Italy, said: "In a dynamic and competitive market like Italy's wine sector, staying ahead demands a profound understanding of consumer behaviour and market trends. CGA by NIQ's On Premise Wine in Italy Report is an indispensable compass that guides suppliers, operators, and manufacturers towards effective decision-making and strategic planning." 
CGA by NIQ's research provides actionable insights into brand advocacy opportunities across the Italian On Premise and global markets to help suppliers understand how brands can benefit from their continued engagement. To learn more about CGA's research capabilities and the Wine Reports, contact Daniela Cardaciotto at daniela.cardaciotto@nielseniq.com, or read more about the Wine in Italy Report here.  
Combine the capabilities of the On Premise Wine in Italy Report with the esteemed "Italian Wine Across the Globe" report for a comprehensive understanding of the global landscape. To know more, click here.