Click here to read the blog in Italian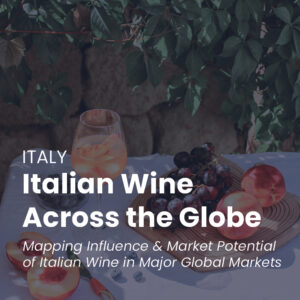 The groundbreaking report utilizes the potential of CGA's On Premise Measurement (OPM) volumetric data and On Premise User Survey (OPUS) consumer data, to take a deep dive into the intricate sector of Italian wine, shedding light on its consumption patterns and market presence across major global markets.
 
By providing a meticulous analysis of the competitive landscape, the report evaluates the emerging market potential of Italian Wines and offers specialized insights and strategic recommendations to enhance product portfolios, marketing approaches, and overall business performance.
 
By using CGA by NIQ's global expertise and insights from other markets, the report is an indispensable device in the hands of suppliers, operators and distributors alike, who are looking to navigate international opportunities.
 
Daniela Cardaciotto, Senior Sales Consultant – Italy, said: "Understanding consumption trends and consumer preferences across diverse markets empowers our clients to flourish in the dynamic global wine arena. The report opens gateways to a realm of global prospects for Italian wine by delivering an unparalleled analysis of Italian wine's sales performance, consumer behaviours, and market dimensions. By deciphering consumption trends and consumer preferences across a spectrum of markets, we are empowering our industry partners with strategies that will ensure success amidst the intensely competitive global wine landscape."
 
CGA by NIQ's research provides actionable insights into brand advocacy opportunities across the Italian On Premise and global markets to help suppliers understand how brands can benefit from their continued engagement. To learn more about CGA's research capabilities and the Wine Reports, contact Daniela Cardaciotto at daniela.cardaciotto@nielseniq.com. Read more about the Italian Wine Across the globe report here.  
 
Combine the capabilities of the Italian Wine Across the Globe Report with the Wine in Italy report to get a complete view of the Italian wine industry. To know more, click here.