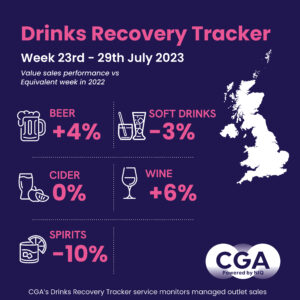 The flat figure in CGA by NIQ's Drinks Recovery Tracker—which measures average sales in managed venues—follows year-on-year drops of 3% and 0.3% over the previous two weeks. That tough fortnight came after 11 consecutive weeks of year-on-year growth during widespread sunshine and high temperatures in May and June. 
Daily sales comparisons ranged from a high of +4% last Wednesday (26 July) to a low of -3% on Friday (28 July). On Premise operators managed to shrug off the effects of a rail strike on Saturday (29 July) with 1% year-on-year growth that day—though the comparative period was also challenged by strikes.  
Category-wise, wine sales (up 6%) completed a strong July, thanks in part to consumers heading inside for meals rather than buying longer drinks in pub gardens and terraces. Beer (up 4%) and cider (up 0.4%) had reasonable weeks, while soft drinks were down 3%. The worst-hit category—as it has been for most of 2023 so far—was spirits, where sales were down 10% year-on-year. 
"Against a backdrop of disappointing weather and the cost of living crisis, pubs, bars and restaurants have done well to haul drinks sales back to last year's levels," says Jonathan Jones, CGA's managing director, UK and Ireland. "However, there's no escaping the fact that July was a challenging month for the On Premise, and with more interest rate rises this week spending is going to remain tight for many consumers. Good forecasts and staycations will hopefully make August a brighter month and pull people back to outdoor drinking." 
CGA's Drinks Recovery Tracker monitors managed outlet sales as the drinking-out market continues to recover, providing category, supplier and brand rate of sale performance. Suppliers and operators that want to track the recovery of drinks sales, benchmark performance or identify changes in trends and consumer preferences should contact Jonathan.Jones@nielseniq.com.