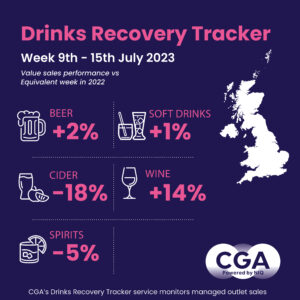 CGA by NIQ's Drinks Recovery Tracker, which measures average sales in managed venues, shows sales in the seven days to Saturday (15 July) were 0.3% down on the same week in July 2022. This represents a drop from sales growth of 5% in the first week of the month to Saturday 8 July, and is the first negative weekly performance in the On Premise since late April. 
The figures are a reminder of the close correlation between weather and drinks sales. June and early July brought widespread sunshine, attracting consumers to pubs with outdoor spaces—but milder and wetter weather made last week much tougher. Sales were in negative territory on Monday (down 12%), Tuesday (down 2%), Wednesday (down 2%) and Friday (down 6%), though they were better on Saturday (up 6%). 
Long Alcoholic Drinks categories were hardest hit by the falling temperatures, with cider sales down 18% last week and beer sales only 2% ahead of July 2022. Soft drinks (up 1%) and spirits (down 5%) had modest weeks too, but consumers' moves indoors, and towards food-led occasions, created 14% year-on-year growth in wine sales. 
"After a long run of fine weather and sales it was little surprise to see more modest trading last week," says Jonathan Jones, CGA's managing director, UK and Ireland. "Eleven consecutive weeks of growth marks an impressive late Spring and early Summer for the On Premise, especially given all the current cost pressures, and this is hopefully a weather-driven blip in the pattern. However, with more poor weather forecast and consumers' spending further squeezed by interest rate rises, trading conditions will remain challenging for some time yet." 
CGA's Drinks Recovery Tracker monitors managed outlet sales as the drinking-out market continues to recover, providing category, supplier and brand rate of sale performance. Suppliers and operators that want to track the recovery of drinks sales, benchmark performance or identify changes in trends and consumer preferences should contact Jonathan.Jones@nielseniq.com.