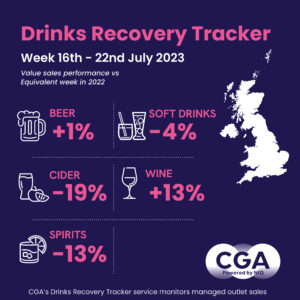 CGA by NIQ's Drinks Recovery Tracker, which measures average sales in managed venues, shows sales in the seven days to Saturday (22 July) were 3% down on the same week last year. It is a second week in the red after a 0.3% drop in the previous seven days, which followed 11 consecutive weeks of year-on-year growth. It is the On Premise's worst performance since late April.  
Last week's drinks sales also suffered from tough comparatives with the heatwave of July 2022, and from rail strikes that reduced footfall in some cities and towns. On the two main days of strike action, Thursday and Saturday, sales were 5% and 7% behind the same days in 2022. Daily sales fluctuated widely across the week, from a low on Monday (down 13%) to highs on Wednesday and Friday (up 6%). 
There were also wide variations in sales by category. Wine sales were 13% ahead year-on-year as consumers turned away from beer gardens and towards food-led occasions. Cider sales dropped 19% as drinkers headed indoors, though beer achieved modest 1% growth. Soft drinks were down 4%, while the spirits category (down 13%) had its worst week since April. 
"After 11 consecutive weeks of year-on-year growth, it is disappointing to see the tracker showing decline in the latest week," says Jonathan Jones, CGA's managing director, UK and Ireland. "However, with the context of rail strikes and much poorer weather than last year, we shouldn't be viewing this week in isolation as a barometer for the health of the sector. Our research shows that consumers, particularly the core On Premise visitor, are still keen to come out into the trade and are prioritising eating and drinking out above other discretionary spending. With the majority still telling us that this is the main way they socialise with others. So, whilst we will all be hoping for brighter weather and an end to transport disruptions, we shouldn't be too concerned by this short-term dip in performance."
CGA's Drinks Recovery Tracker monitors managed outlet sales as the drinking-out market continues to recover, providing category, supplier and brand rate of sale performance. Suppliers and operators that want to track the recovery of drinks sales, benchmark performance or identify changes in trends and consumer preferences should contact Jonathan.Jones@nielseniq.com.