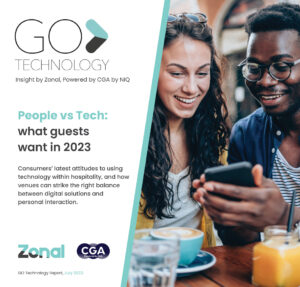 The exclusive 'People vs Tech' report highlights rising interest in the digitalisation of hospitality experiences and the value of consumers who prefer to use technology on their visits. This group spends an average of £114 a month on eating and drinking out—£24 more than the average of £90 among those who prefer human contact in restaurants, pubs and bars. Their average household income is £10,100 higher too. 
Tech is heavily used by younger adults in particular, and 50% of those who prefer it to human contact in hospitality are aged 18 to 34—a sign that the use of digital solutions will only increase in the years ahead. Heavy users of the On Premise are also much more likely than average to use tech.  
The GO Technology report identifies the key benefits of smart solutions in the hospitality journey, including speed, convenience and ease—the top three motivating factors for consumers. It also reveals the stages at which guests would most benefit from digital solutions, including bookings, which nearly half (47%) would prefer to make digitally—nearly double the number who prefer to book offline (25%). There is a similar differential between those preferring to cancel a booking via tech (51%) or in another way (23%). 
Automated reminders about bookings are another good use of technology. Three in five (60%) consumers like to get reminders digitally, compared to just 13% who prefer to be contacted by staff. 
However, the 'People vs Tech' report also flags areas where the majority of guests still prefer human interaction, like placing food orders, settling bills and leaving tips.  
Karl Chessell, CGA director – hospitality operators and food, EMEA, said: "This report shows the huge value of technology users to hospitality operators, and makes a strong case for sustained investment in solutions that satisfy them. Digital tools can give guests faster and easier experiences, especially in venues with young demographics like nightclubs, bars and fast food restaurants. However, tech will only give operators a competitive advantage if it's efficient, user-friendly and trustworthy, and it has to be balanced with the face-to-face contact that people still crave when they go out. Finding the right balance of the digital and human elements of hospitality is going to be crucial in the years ahead." 
The GO Technology research from CGA by NIQ and Zonal is based on an exclusive survey of 5,000 nationally representative British consumers, and unlocks many more insights into the use of tech to improve experiences in restaurants, pubs and bars. Click here to access all the latest reports. To discuss the research, email CGA by NIQ client director Andy Dean at andy.dean@nielseniq.com.