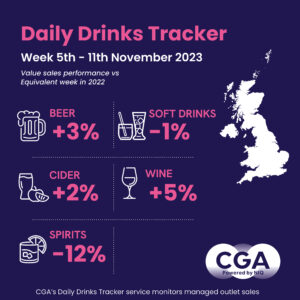 Average sales in managed venues in the week to last Saturday (11 November) were marginally down by 0.2% from the same period in 2022. It comes on the back of a similarly flat second half of October, followed by a brief flurry of growth around Halloween and Bonfire Night. 
Sales were in year-on-year growth on four of the week's seven days, peaking at +14% on Monday (6 November), but they fell by 7% on both Friday and Saturday (10 and 11 November). Those two days were hit by chilly and wet weather in many parts of the country, but the softer trading may also reflect a pause in some people's spending before the start of the festive season.  
The wine category is often best insulated against poor weather, and it was the top performing segment of last week with sales up 5% year-on-year. Beer (up 3%), cider (up 2%) and soft drinks (down 1%) were broadly flat, but spirits (down 12%) had yet another tough week in the aftermath of Halloween. 
"A succession of storms has disrupted a lot of people's plans over the last month, and suppliers and operators will be keeping everything crossed for respite on the weather over the festive season," says Jonathan Jones, CGA by NIQ's managing director, UK and Ireland. "Christmas will make or break the year for many pubs, bars and drinks suppliers and they will need to work very hard to attract consumers and maximise spend. News this week of a drop in inflation is hopefully a positive omen for this vital period." 
The Daily Drinks Tracker provides analysis of sales at managed licensed premises across Britain and is part of CGA by NIQ's suite of research services delivering in-depth data on category, supplier and brand rate of sale performance. To learn more, click here and email jonathan.jones@nielseniq.com.