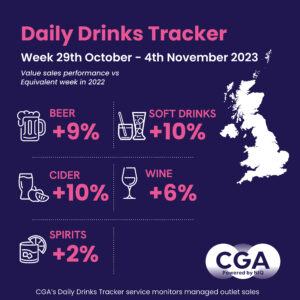 CGA by NIQ's Daily Drinks Tracker shows average drinks sales in managed venues in the week to last Saturday (4 November) were 7% ahead of the same period in 2022. This is the best weekly performance since September and follows a flat second half of October, when poor weather hit footfall in pubs and bars. 
Sales were in year-on-year growth on four of the seven days. They peaked at +15% on Sunday (29 October), when early Halloween visits, the Manchester football derby and a boxing match for Tyson Fury all brought people out. There was growth of 11% on Halloween night itself (Tuesday 31 October), followed by 17% on Wednesday (1 November). The week ended on a high, with bonfire celebrations, decent weather and more big football matches luring people to pubs and bars and triggering a 10% uplift on Saturday (4 November). 
All drinks categories were in year-on-year growth, with cider (up 10%), beer (up 9%), soft drinks (up 10%) and wine (up 6%) all enjoying a strong week. Sales in the spirits category, which have lagged last year throughout most of 2023, achieved 2% growth, thanks to Halloween celebrations. 
"After a damp October it's great to see drinks sales growth beat the current rate of CPI as we start November," says Jonathan Jones, CGA by NIQ's managing director, UK and Ireland. "It's a positive sign for the crucial run-up to Christmas, and with a potential deal to end rail strikes being voted on at the end of November, we can be cautiously optimistic about festive footfall and sales. While consumer spending remains under pressure, the last week has shown that people are still very keen to get out to pubs, bars and restaurants for big communal occasions." 
The Daily Drinks Tracker provides analysis of sales at managed licensed premises across Britain and is part of CGA by NIQ's suite of research services delivering in-depth data on category, supplier and brand rate of sale performance. To learn more, click here and email jonathan.jones@nielseniq.com.