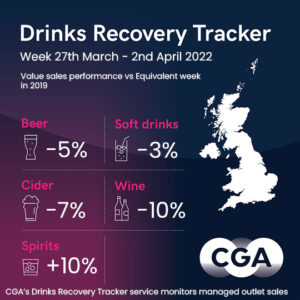 It indicates that average sales by value in Britain's managed pubs, bars, and restaurants in the seven days to Saturday (2 April) were 2% down on the same week in April 2019. It follows a 3% drop in the previous seven days.
Mixed weather across the week held down footfall in the On Premise, with daily sales fluctuating between a low of -9% on Sunday (27 March) and a high of +14% on Thursday (31 March). It continues a pattern of uneven trading since the start of the year, with the confidence of both businesses and consumers in flux.
Spirits was again the best performing drinks category last week, with sales up by 10% on the same week in 2019. Soft drinks (down 3%), beer (down 5%), cider (down 7%) and wine (down 10%) were all in the red.
Jonny Jones, CGA managing director – UK & Ireland

"It was another week of ups and downs for drinks sales in the On Premise," says Jonathan Jones, CGA's managing director, UK and Ireland. "Real-terms growth continues to be elusive, and consumers are clearly still cautious about both their spending and COVID-19 infection rates. As the weather improves we should hopefully start to see comparative sales pick up, but trading conditions remain tough and the second quarter of 2022 looks likely to be as inconsistent as the first."
CGA's Drinks Recovery Tracker monitors managed outlet sales as the drinking-out market continues to recover, providing category, supplier and brand rate of sale performance versus pre-COVID-19 sales. Suppliers and operators that want to track the recovery of drinks sales, benchmark performance or identify changes in trends and consumer preferences should contact jonathan.jones@cgastrategy.com.