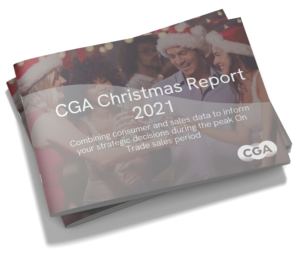 Suppliers and operators will have a great chance to recover lost Christmas sales this year—and CGA's 'Christmas Report 2021' pinpoints the big opportunities to grasp.
The in-depth research draws on CGA's survey of 2,000 nationally representative On Premise consumers to reveal behaviours and attitudes in the eating and drinking out sectors over the festive season. It also highlights key sales trends, channels and occasions, with insights that can optimise strategies in the run-up to the most important trading period of the year.
Findings from the exclusive research include:
Three in five (58%) consumers visited the On Premise over Christmas 2021, despite fears about the Omicron variant—and 38% of those said their experiences were better than expected
Nearly half (46%) of consumers say they go out more often over the festive period than they normally do
A fifth (21%) visited a Christmas market or pop-up in December—a sign of the growing value of these channels
Festive footfall was highest on Christmas Eve, when 18% visited a venue—but reservations peaked on Monday 13 December, when three quarters (74%) of those who went out made a booking
More areas of focus for the report include drinks and brands choices, the delivery sector and nuances in trends in Scotland and Wales. Analysis goes beyond Christmas to explore the New Year's Eve and 'Dry January' markets as well.
Nathan Boyes, senior client manager

CGA senior client manager Nathan Boyes said: "After two very tough Christmas trading seasons, suppliers and operators can look forward to a happier festive season in 2022. There is likely to be a release of pent-up demand for festive occasions—but to take full advantage of the opportunities, businesses will need to understand exactly what consumers want and how COVID-19 has changed their habits. This report delivers the intelligence they need to build super-focused festive strategies."
To get the report and learn more about CGA's research capabilities and bespoke analysis to support Christmas strategies, email nathan.boyes@cgastrategy.com.