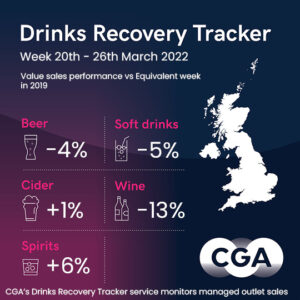 CGA's latest Drinks Recovery Tracker shows that average sales by value in managed pubs, bars and restaurants in the seven days to Saturday (26 March) were 3% down on the same week in March 2019. It is a sharp reversal of fortunes from the previous week, when St Patrick's Day, the Six Nations, and sunshine combined to pull sales 7% ahead of March 2019. With inflation factored in, last week's shortfall in sales is considerably bigger in real terms.
Warm weather lifted trading on some days last week including Tuesday (up 10%), Wednesday (up 9%), Thursday (up 3%) and Saturday (2%). However, these gains were wiped out by a 14% drop in sales on Friday.
As has been the case ever since the reopening of hospitality last Spring, Spirits outstripped other drinks categories. Their sales were up by 6% on the same week in 2019, while sunshine also made it a good week for Cider (up 1%). Beer (down 4%) and Soft Drinks (down 5%) lagged, and Wine (down 13%) was once again the week's biggest loser.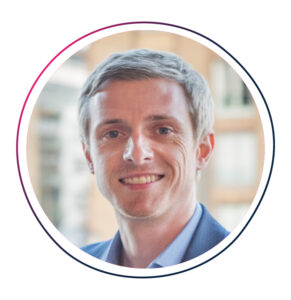 "These numbers remind us that it will be some time before drinks sales get consistently ahead of pre-pandemic norms," says Jonathan Jones, CGA's managing director, UK and Ireland. "Rising costs are squeezing many consumers' disposable incomes, and high COVID-19 numbers mean significant numbers remain hesitant about going out. Inflation is piling pressure on businesses as well, and while the long-term outlook for the drinking-out market remains good, there are clearly more turbulent times ahead."
CGA's Drinks Recovery Tracker monitors managed outlet sales as the drinking-out market continues to recover, providing category, supplier and brand rate of sale performance versus pre-COVID-19 sales. Suppliers and operators that want to track the recovery of drinks sales, benchmark performance or identify changes in trends and consumer preferences should contact jonathan.jones@cgastrategy.com.