Here are five key shifts revealed by CGA by NielsenIQ's sales measurement service.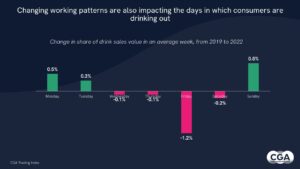 1 Friday sales down
Friday trading in the On Premise has been affected by two major dynamics: the heavy pressure on discretionary spending and the shift to home working. This has reduced both big Friday nights out and after-work drinking occasions, leading to a 1.2 percentage point dip in Fridays' share of weekly drinks sales across CGA's managed volume pool compared to 2019. The average RoS on this day has dropped 4%.
2 Home working hits London
The drop in Friday evening drinks has been particularly significant in London, where office workers are most heavily concentrated and the shift to hybrid working continues. Fridays' share of weekly drinks sales in the capital has fallen by 2.9 percentage points since 2019—more than twice the national average, whilst RoS has dropped -14%.
3 Gains for Mondays, Tuesdays and Sundays
Some of the visits lost on Fridays have shifted to other days of the week, especially Mondays and Tuesdays—when more workers tend to be in offices—and Sundays. Mondays and Tuesdays now account for 8% and 9% of weekly drinks sales, while Sundays take 14%. As with Friday trends, the move towards midweek occasions has been even more pronounced in London.
4 Saturdays solid
Saturday remains the most important trading day of the week by some distance, with a 27% share of all On Premise drinks sales. This indicates that while some consumers have eased back on Friday occasions, they remain committed to high tempo Saturday days or nights out.
5 Spirits shift to Sunday
CGA's breakdown of sales by category reveals an interesting change in spirit sales away from Fridays to Sundays, which are now a bigger day for the category than Thursdays. Beer, wine and soft drinks have all also seen Friday sales drift away to earlier in the week as well, while cider has lost out more on Saturdays.
All data is based on sales between 1 September and 30 November 2022, with comparisons against the same period in 2019.
CGA by NielsenIQ's expert analysis of drinks sales trading by daypart, category and venue type helps operators and suppliers pinpoint promotional opportunities and gain market share. To learn more, click here. or contact Paul Bolton at Paul.Bolton@cgastrategy.com