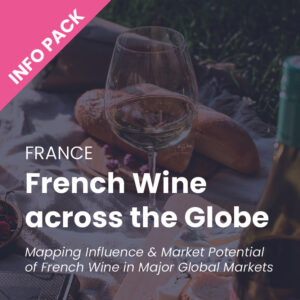 Leveraging CGA's On Premise Measurement (OPM) volumetric data and On Premise User Survey (OPUS), this report delves into the vibrant world of French wine. It unveils key insights into consumption trends and showcases the influential presence of French wine across major global markets.
By combining in-depth knowledge of local markets with a global perspective, the report offers a distinctive viewpoint on the growing market opportunities for French wine. In addition, it yields strategic guidance for suppliers, operators, and distributors, enabling them to thrive in the highly competitive global wine industry.
Using CGA's extensive global expertise and insights drawn from other markets, this report becomes an essential tool for stakeholders seeking to navigate and gain a comprehensive understanding and navigate international opportunities.
Julien Veyron, Client Solutions Director – France, said: "A deeper comprehension of market size, consumer trends, and competition can support suppliers, operators, and distributors alike, in aligning their strategies alongside consumer preferences. It is equally essential to assess the untapped potential in new markets, thereby enabling brands to explore fresh opportunities and expand their presence in the dynamic wine industry on a global scale."
CGA by NIQ's research provides actionable insights into brand opportunities across the French On Premise and global markets to help suppliers understand how brands can benefit from their continued engagement. To learn more about CGA's research capabilities and the Wine Reports, contact Julien Veyron at Julien.Veyron@nielseniq.com, or read more about the French Wine Across the Globe report, here. 
Combine the capabilities of the 'French Wine Across the Globe' Report with the 'Wine in France' report to get a complete view of the French wine industry. To know more, click here.