Click here to view this blog in German/Klicken Sie hier, um diesen Blog auf Deutsch anzuzeigen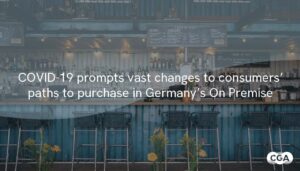 Consumers in Germany are planning their On Premise visits more carefully than before COVID-19, and favouring familiar venues and local drinks brands.
Those are among the findings from exclusive research into habits and attitudes to drinking-out from leading On Premise analysis consultancy CGA Strategy. It shows that more than two in five (42%) consumers are likely to plan visits in more detail than they did before the pandemic, compared to just 8% who are putting in less research.
More than a quarter (27%) of consumers are planning to only visit bars and other venues that they had used before COVID-19—six percentage points higher than the global average revealed in CGA's research of major markets around the world. Nearly a third (30%) of Germany's consumers are meanwhile choosing local drinks brands—seven percentage points above the global average.
The in-depth research reveals many more important insights into consumers' preferences in Germany's On Premise, including:
Two thirds (65%) prefer table service for drinks ordering—seven percentage points more than the worldwide average—and under-index on digital, at-bar and pre-ordering methods
More than half (55%) prefer to use physical menus—20 percentage points higher than the global average—and are much less likely to opt for digital or single-use menus
Drinkers are less likely to be influenced in drinks choices by external factors. Only around a third are persuaded by bar staff (21%), friends (20%), menu descriptions (19%) or promotions (15%)—all below the all-country averages.
Graeme Loudon, CGA managing director EMEA and APAC, said: "COVID-19 has caused some big changes in consumers' paths to out-of-home drinks purchases, and the new emphasis on planning and localism is particularly heightened in Germany. Operators and suppliers will need to work out what this means for their consumers and brands, and understand that post-COVID-19 behaviours are likely to vary significantly—not just from country to country but from region to region, consumer segment to segment, and brand to brand."
CGA's research sampled more than 1,000 nationally representative consumers in Germany. For more information about CGA's exclusive consumer and volumetric research, and how it can help operators and suppliers to optimise sales and marketing strategies in the reopened market, please contact graeme.loudon@cgastrategy.com.