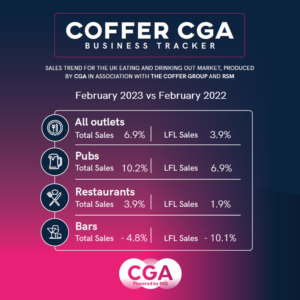 The Tracker—produced by CGA by NIQ in partnership with The Coffer Group and RSM UK—has now recorded year-on-year growth for five consecutive months. However, the figure is substantially down from 10.1% in January and is well below the current rate of inflation in the UK.
Pubs performed the best of the Tracker's three market segments to continue a solid start to 2023, with like-for-like sales 6.9% ahead of February 2022. Restaurants achieved modest growth of 1.9% but the bars segment continued to struggle, with sales down 10.1%.
Continuing the pattern of recent months, sales in London comfortably outpaced the rest of the country in February. The Coffer CGA Business Tracker shows sales within the M25 were 7.6% ahead year-on-year—well over twice the growth of 3.1% outside the M25.
Karl Chessell, director – hospitality operators and food, EMEA at CGA by NIQ, said: "Hospitality trading is now consistently ahead year-on-year, and consumers' appetite for pubs in particular remains undimmed. That demand allows the sector to be optimistic when planning for the long term. However, the real issue the sector faces is the cost of doing business right now. It was therefore disappointing to hear about the lack of energy support in the budget. This risks the future of many businesses to survive this period of cost pressure and benefit from the positive demand that exists."
Mark Sheehan, managing director at Coffer Corporate Leisure, said: "Hospitality sales continue to grow but still lag inflation. London continues to rebound strongly. There is strong demand for the best sites in London and we expect this to continue.   We expect to see sales growth mainly on the back of price rises but what operators need to see across the board is increased volume, which is difficult to see until wage rises outstrip inflation."
Paul Newman, head of leisure and hospitality at RSM UK, said: "It's positive news to see another month of year-on-year growth for the UK hospitality sector. Although there were no meaningful sector-specific reliefs in last week's Budget, news that the UK is likely to avoid a technical recession alongside a significant fall in inflation later this year should provide a boost to consumer confidence. Operators will be desperate for this mood swing to translate into an uplift in spending across the UK's pubs and restaurants over the coming months as they continue to grapple with rampant food inflation and rocketing energy bills."
CGA collected sales figures directly from 75 leading companies for the latest edition of the Coffer CGA Business Tracker.
Participating companies receive a fuller detailed breakdown of monthly trading. To join the cohort, contact Andrew Dean at andrew.dean@cgastrategy.com
About the Coffer CGA Business Tracker  
Participants include: Adventure Bars, All Star Lanes, Amber Taverns, Anglian Country Inns, Azzurri Group (Ask Italian, Zizzi), Banana Tree Restaurants, Barkby Pub Co, Beds and Bars, Big Table Group (Bella Italia, Las Iguanas), Bill's Restaurants, Boparan Restaurant Group (Carluccio's, Gourmet Burger Kitchen), BrewDog, Buzzworks Holdings Group, Byron, Cityglen Pub Co, Coaching Inn Group Ltd, Cote Restaurants, Dishoom, Dominion Hospitality, East London Pub Co, Five Guys, Fuller Smith & Turner, Gaucho Grill, Giggling Squid, Greene King (Chef & Brewer, Hungry Horse, Flaming Grill), Gusto Restaurants, Hall & Woodhouse, Hawthorn Leisure, Honest Burgers, Individual Restaurants, Junkyard Golf Club, Laine Pub Co, Le Bistrot Pierre, Liberation, Loungers, Marston's, McMullen & Sons Ltd, Mitchells & Butlers (Harvester, Toby, Miller & Carter, All Bar One), Mowgli, Nando's Restaurants, New World Trading Company, North Brewing Co, Oakman Inns, Parogon Pub Group, Peach Pubs, Pizza Express, Pizza Hut UK, Prezzo, Punch Pub Co, Rekom UK, Restaurant Group (Frankie & Bennys, Chiquitos, Brunning & Price), Revolution Bars, Riley's, Rosa's Thai, Snug Bar, Southern Wind Group (Fazenda),  St Austell, Star Pubs & Bars, State of Play Hospitality, Stonegate Pub Co (Slug & Lettuce, Yates', Walkabout, Bermondsey Pub Company), Tattu, TGI Fridays UK, The Alchemist, True North Brew Co, Upham Pub Co, Various Eateries (Strada, Coppa Club), Wagamama, Whitbread (Beefeater, Brewers Fayre, Table Table), YO! Sushi and Young's.