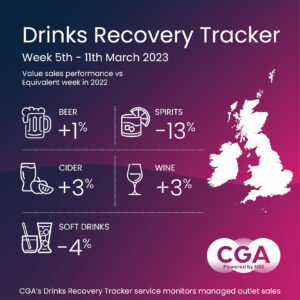 CGA by NIQ's latest Drinks Recovery Tracker shows average sales in the week to last Saturday (11 March) were 3% behind the equivalent week in March 2022. This is the first week that sales have fallen below the levels of last year, following growth of 25%, 2% and 7% in the three previous weeks. With inflation currently in double digits, last week's sales were even further behind in real terms.
Wet and chilly weather have made trading conditions harder for drinks-led operators in the first half of March. Year-on-year drops peaked at -6% and -9% on Wednesday and Thursday (8 and 9 March), but sales brightened a little on Friday (up 2%) before falling back (down 2%) on Saturday—thanks in part to the absence of a Six Nations game for England that day.
Category-wise, sales of beer, cider and wine were all up by between 1% and 3% last week, whilst Soft drinks were down 4% and spirits sales fell 13%. As occasions continue to shift towards lower tempo and the demographic mix of consumers in trade moves back towards where it was pre-pandemic, LAD categories are regaining some of the share they lost to spirits.
"After decent year-on-year growth for drinks sales in January and February, it has been a challenging start to Spring," says Jonathan Jones, CGA's managing director, UK and Ireland. "Pressure on disposable income combined with a cold, wet start to the month has taken a toll and the market will be hoping for better weather in the coming weeks to encourage people out to pubs and bars and loosen their spending."
CGA's Drinks Recovery Tracker monitors managed outlet sales of the drinking-out market, providing category, supplier and brand rate of sale performance. Suppliers and operators that want to track the recovery of drinks sales, benchmark performance or identify changes in trends and consumer preferences should contact jonathan.jones@cgastrategy.com.