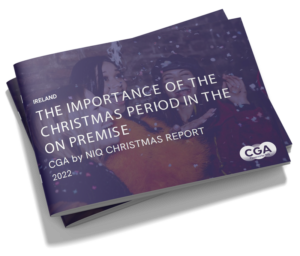 The report, based on an in-depth survey of the behaviour of 1,000 consumers in the Republic and Northern Ireland last Christmas, reveals the big trends and opportunities at the most important time of the year—including the who, when, where and why of festive occasions. 

 
Who…  
Nine in ten consumers went out for food and drink last December—despite just over a quarter saying they were unsure whether they would do so. Christmas draws out younger consumers in particular, and the 18 to 34 age group over-indexed for visits by 11 percentage points. 

 
When… 
Half of festive consumers went out before Christmas Day, but the week afterwards was more important for a quarter. This highlights the opportunity to extend festive occasions in the period between Christmas and New Year.  

 
Where… 
CGA by NIQ's research shows food-led pubs and casual dining restaurants were the top two channels for consumers over the Christmas period. But drink-led pubs and nightclubs saw the biggest upswing in spending relative to the rest of the year, with two in five consumers visiting them more frequently in December. 

 
Why… 
Christmas visits switch between quieter and high-tempo occasions. Relaxed drinks are more popular before Christmas Day, but higher tempo visits become more frequent in the run-up to New Year's Eve, when a quarter of consumers visit the On Premise. 

 
"The last three months of the year account for well over a quarter of On Premise sales, so it's crucial to capitalise on festive visits," says Sian Brennan, CGA client director, Ireland. "It's a particularly good time of year for activation, as Christmas drinkers are significantly more likely than usual to try new drinks. Well-targeted and research-based strategies can deliver great sales for suppliers and tee up brands for a successful 2024 as well." 

 
CGA by NIQ's Ireland 2022 Christmas Report features many more insights into consumer habits and preferences, helping to prime suppliers and operators for effective sales and marketing strategies for this Christmas. To learn more, click here and email Sian Brennan at sian.brennan@cgastrategy.com.