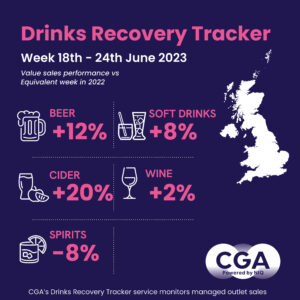 The Tracker, which calculates average sales in managed venues, has now been in growth for nine weeks in a row. The 7% figure for the seven days to last Saturday (24 June) is also the third best since the end of April.  
The week began with 5% year-on-year growth in drinks sales on Sunday (18 June), as Father's Day brought some families out to pubs, bars and restaurants. Growth peaked in line with the temperatures at 21% on Thursday (22 June) and was also healthy on Friday (up 8%) and Saturday (up 7%). 
Long Alcoholic Drinks (LAD) categories were in double-digit growth across the week, with cider sales up 20% and beer up 12%. Soft drinks (up 8%) and wine (up 2%) were solid too. However, spirits categories (down 8%) continued a tough first half of 2023 against strong comparatives.  
"Nine consecutive weeks of year-on-year growth is a great achievement by On Premise operators and suppliers," says Jonathan Jones, CGA's managing director, UK and Ireland. "Despite huge pressures on their disposable income, consumers clearly remain keen to drink out, and pubs and bars have overcome severe cost challenges of their own. The recent dip in temperatures may check growth, and inflation and interest rates rises will continue to make life difficult as we move into the second half of 2023, but the long-term outlook for hospitality remains good." 
CGA's Drinks Recovery Tracker monitors managed outlet sales as the drinking-out market continues to recover, providing category, supplier and brand rate of sale performance. Suppliers and operators that want to track the recovery of drinks sales, benchmark performance or identify changes in trends and consumer preferences should contact Jonathan.Jones@nielseniq.com.