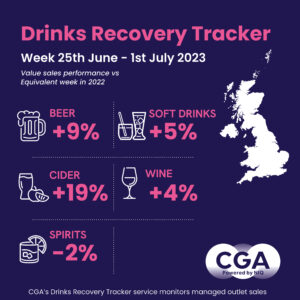 It is a tenth consecutive week of growth for CGA by NIQ's Drinks Recovery Tracker, which measures average sales in managed venues. It is only just below the 7% growth in each of the previous two weeks, when widespread sunny weather brought people out to drink in pub gardens and terraces. 
Sales were in year-on-year growth on six of the seven days to last Saturday (1 July), peaking at +9% and +10% on Monday and Saturday. As in previous weeks, Long Alcoholic Drinks (LAD) categories performed best, with cider sales up 19% and beer up 9%. Soft drinks (+5%) and wine (+4%) achieved smaller growth, while the spirits category was down 2%—though this marks a notable improvement from recent trends, and there was modest but encouraging growth over the weekend.  
"Last week's sales wrapped up a very solid second quarter of 2023 for drinks sales," says Jonathan Jones, CGA's managing director, UK and Ireland. "Against a backdrop of high inflation and challenging conditions for businesses and consumers alike, operators and suppliers continue to provide compelling reasons for British consumers to drink out. It's particularly encouraging to see that growth held up despite the cooling of the weather, which bodes well for the rest of the summer period." 
CGA's Drinks Recovery Tracker monitors managed outlet sales as the drinking-out market continues to recover, providing category, supplier and brand rate of sale performance. Suppliers and operators that want to track the recovery of drinks sales, benchmark performance or identify changes in trends and consumer preferences should contact Jonathan.Jones@nielseniq.com.