Click here to read the blog in Italian
Clicca qui per leggere il blog in italiano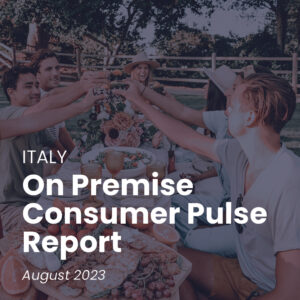 Those are some of the headlines from the latest edition of CGA's 'Italy On Premise Consumer Pulse Report.' It provides a monthly snapshot of trading conditions and consumer habits, and is essential reading for all drinks, suppliers and manufacturers. It reveals that 85% and 56% of Italy's consumers went out to eat and drink respectively in July, while even more (86% and 61%) planned to do so in August. With Italy enjoying a fine summer, more than two in five (42%) said they are going out more often than usual—nearly twice as many as those going out less (22%).
CGA's report dives deep into Italy's On Premise to highlight the trends powering this interest and help suppliers achieve growth. Here are just five of the many insights.
1. Young urban professionals driving growth
The consumers who are going out more often tend to be young, urban-based and relatively affluent. Nearly two in five (37%) are aged under 34 while 76% live in city or town centres—17 percentage points more than the all-consumer average. These visitors' average household income is around €5,600 a year higher at €33,277.
2. Aperitifs and beer the top summer choices
CGA's breakdown of drinks preferences shows nearly half of On Premise visitors bought aperitifs (49%) and beer (47%) in July—making them the top two choices ahead of wine (35%) and soft drinks (29%). Consumers choosing domestic beers are nearly double the number of those buying imports.
3. New opportunities in cocktails and sparkling wine
While consumers over-index most heavily for beer and aperitifs during the holidays, 32% and 25% drink more cocktails and sparkling wine respectively. By tapping into the demand for both treats and refreshment, there is particularly good summer potential for drinks brands here.
4. A strong summer for beach bars and hotels
CGA's analysis of summer habits shows pizzerias and bars are consumers' top two venues on holiday, while beach bars and hotels heavily over-index for visits compared to other times of the year.
5. The cost of living crisis continues
While trends are broadly positive, CGA's report sounds caution about consumer spending. Of those who are going out less often, half (50%) say it is because of the cost of living crisis, while nearly as many (42%) have been put off by price rises. This emphasises the need for venues and suppliers to provide guests with consistently memorable and good value experiences to keep attracting their limited spending.
Daniela Cardaciotto, CGA by NIQ's senior sales consultant, said: "Our research shows how Italian consumers head into their summer holidays with a desire to spend in bars and restaurants despite cost of living concerns, as well a keen interest in experimentation. This opens up some great opportunities for drinks suppliers and venues, but capitalising on them demands an expert and up-to-the-minute understanding of people's habits. Our consumer research builds the perfect foundations for successful On Premise strategies—not just over the rest of the holiday season but all year round."
You can download the August Italy On Premise Consumer Pulse Report for free here.
CGA by NIQ's consumer research delivers many more exclusive insights into consumer habits and preferences in Italy's On Premise, helping suppliers, manufacturers and operators to craft successful strategies and gain market share. The OPUS Select service also offers bespoke research to help businesses explore specific topics, categories, channels, occasions, demographics and more. OPUS Core subscriptions provide deep dives into consumers' behaviour with granular detail and analysis of how key trends are impacting the sector. 
To learn more about CGA's OPUS in Italy and how it can help your business, please email daniela.cardaciotto@nielseniq.com.