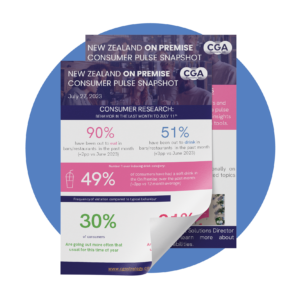 The report takes an up-close look at how drinks brands and operators can optimize the most popular drinks in the category, while also identifying opportunities to promote alcopops, pre-mixed cocktails, hard seltzers, and pre-mixed spirits to the right audiences at the right times.
Consumer awareness for different types of mixed drinks available in the On Premise is relatively high. But this doesn't necessarily convert into sales. For example, pre-mixed spirits with mixers are the most popular types of drinks in the category, with 62% awareness versus 32% of consumers who drink them in pubs, bars, restaurants, and other similar venues.
It's a consistent pattern with other drinks in the category. 44% awareness of pre-mixed cocktails versus 24% consumption, 47% awareness of alcopops versus 16% consumption, and 37% awareness of hard seltzer versus 12% consumption.
Despite a high level of awareness of mixed drinks, only 2 in 6 consumers perceive themselves to be knowledgeable about the variety of mixed drinks available in the On Premise. This lack of consumer clarity creates huge potential for overlap between each mixed drink type and for the lines to be blurred. This is reflected in the answers consumers gave when asked the question: 'If you were choosing a mixed drink to have when out in a pub, bar or restaurant, which of the following would you prefer to have?' 75% said a classic mixed drink such as a margarita cocktail, while 25% said a combined mixed drink such as a margarita hard seltzer.
So, what does this mean for the current state of mixed drinks, and how the category can be leveraged now and in the future? There's a visible overlap in consumers' perceptions of quality and flavour associations across each mixed drink type, which further blurs the lines between them. A focus on mixed drink product hybrids could overcome consumption issues by engaging consumers using existing drink categories and flavours that are already enjoyed.
James Phillips, Client Solutions Director – ANZ said: "The report provides evidence of confusion around the mixed drink category. Half of consumers consider all the different types of mixed drinks to be under one 'umbrella' category, competing against each other for the same spaces in venues and on drinking occasions.

This uncertainty creates opportunities for experimentation with customised drinks offerings. But at the same time, it also indicates great potential for classic mixed drinks, which 3 out 4 consumers prefer when given the choice, rather than blurring the lines to make hybrid options appealing as sub-categories."
To learn more about consumer perceptions and interactions with mixed drinks in the On Premise, get in touch with the team about CGA by NIQ's New Zealand Pulse+ Report as part of a new subscription, providing a bigger picture overview of the New Zealand On Premise, while keep a pulse on consumer trends and hot topics.
Find out more about the New Zealand Pulse+ Reports here or download a download more information and examples of the data and insights included in CGA's Pulse+ subscription here.
Contact james.phillips@nielseniq.com to find out how you can access the full subscription, and more about CGA by NIQ's On Premise solutions to benefit your business.