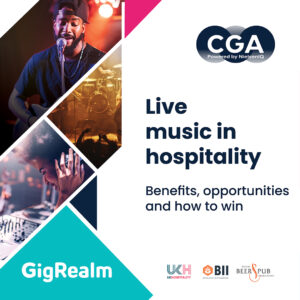 It reveals that 78% of consumers are more likely to visit a pub, bar or similar venue if it offers live music. Nearly as many (73%) say they are likely to stay in a venue longer if there is live music, and 76% are likely to buy more drinks.
As the cost of living crisis squeezes spending, the report suggests people will prioritise live music when going out. Two thirds (68%) think it provides a great experience with family and friends on a low budget, while 47% say they would be likely to continue visiting venues with live music even if they were short on cash.
The full 'Live Music in Hospitality' report from CGA and GigRealm provides many more insights into the demand for live music and gig-goers' demographics and needs, plus interviews with pub leaders to reveal benefits and opportunities for venue operators. It also highlights the value of technology and online platforms like GigRealm, in finding, booking and paying musicians whilst reducing admin and costs. Other findings from the research include:
Two thirds (67%) of consumers typically watch live music in pubs, making them much more popular than large concert venues (31%), festivals (25%) and stadiums (22%)
Half (50%) of consumers say they would like to see more live music events mid-week, rather than waiting for the weekend
More than four in five (85%) consumers find the idea of combining live sport with live music appealing.
Karl Chessell, CGA's director – hospitality operators and food, EMEA, said: "This year is likely to be another challenging one for hospitality and this research confirms the value of live music as an extra source of drinks sales, from younger adults in particular. With technology available to remove many of the hassles that are often associated with staging acts, this is a great time for operators to explore the potential live music provides."
Tom Brady, CEO and co-founder of GigRealm, said: "As we enter 2023, many customers will be laser focused on wanting to experience the best hospitality has to offer, especially as we continue to navigate the cost-of-living crisis. Venues have an opportunity to use live music as a way to enhance customer experience, diversify their offer and providing customers with the one thing that cannot be replicated at home."
The value of live music is also recognised by the leaders of industry associations. Emma McClarkin OBE, CEO of the British Beer and Pub Association and non-executive director at GigRealm, said: "With the market challenges and changes to consumer habits, it's vital that hospitality venues do all they can to increase their footfall and enhance their customer experience. Diversifying your offer to cater for different consumers and occasions is key.  GigRealm makes it easy for venues to book their own live music with zero hassle, helping the sector to flourish."
The 'Live Music in Hospitality' report from CGA and GigRealm is available to download in full and for free here.