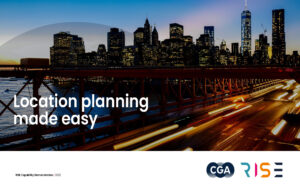 CGA's Market Recovery Monitor with AlixPartners has highlighted major churn in properties over the last year, with many closures swiftly followed by openings in the same units. It has shown a net decrease of 9,200 licensed premises between March 2020 and March 2022—nearly 1,000 of them since December 2021. This has created a huge range of units for new and established operators seeking to grow their estates—many of them already well equipped for restaurant, pub and bar operations.
This bank of properties has been increased further by newly-built premises, especially in Britain's major cities. CGA's Top Cities reports with Wireless Social have shown the increasing vibrancy of many of these regional cities, with London now starting to rebuild too.
The extensive supply of vacated and new-build units has led many landlords to offer attractive terms for new tenants. But with so much choice, there is a clear need for smart location choices, and CGA's RISE tools provide the intelligence needed for precise planning. RISE (Retailer Intelligence and Sales Effectiveness) is used by top businesses to pinpoint consumer behaviour in specific areas, and match brands to the optimum locations for sales and profits.
RISE is powered by CGA's Outlet Index, which uses more than half a million pieces of data per year to create the country's most accurate and up-to-date database of licensed premises. This is blended with CGA's MATCH consumer segmentation and sales performance data to achieve powerful insights into how people eat and drink out from location to location. Operators can use it to analyse target areas right down to postcode level, understand the local competition and get comprehensive overviews of sales and pricing over time. RISE can be fully integrated into businesses' own EPOS, CRM and other data sources for the best possible understanding of the potential performance of locations.
Andy Dean, CGA Client Director

CGA client director Andy Dean says: "It's been a tumultuous couple of years for the On Premise, and thousands of licensed premises have sadly closed. But one operator's challenges are another's opportunities, and with hospitality's recovery gathering pace, this is a superb time for ambitious businesses to snap up properties. However, hasty, gut-feel or scattergun approaches to new openings are very risky, and it's crucial to get a proper understanding of the opportunities and challenges from town to town and street to street. Businesses that use RISE to select the right places to open are paving the way for success in the future."
To learn more about RISE's extensive capabilities, download more information in CGA's RISE location demonstration report or email CGA client director Andy Dean at andrew.dean@cgastrategy.com.