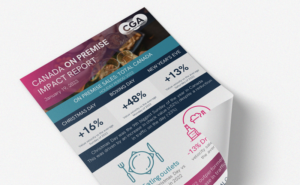 It's been a positive month for the Canadian On Premise, with 92% of consumers visiting the On Premise in the last month. Nearly 80% are going out the same or more often than usual, compared to a lower 21% who are going out less. Reduced frequency of visitations is largely due to money concerns, with the top two influencing factors being the cost of living and price increases in eating and drinking out. However, of those that said they were going out more frequently than usual, the two most popular motivators are the time of year, and more events than usual. This highlights a prime opportunity to devise a compelling calendar of events laser targeted at securing and driving visitation.
Despite a slight drop is satisfaction since February 2023, down to seeing less value for money, the report shows how consumers are still satisfied by quality of service, wait times and staff knowledge. Leaning into quality can ensure consumer satisfaction, offering quality brands and prioritising staff education is the key to securing consumer satisfaction.
2 in 5 consumers said they would prioritize spending on visits to the On Premise if their disposable income was to be reduced over the next year. With those prioritized occasions being special occasions and regular going out. In addition, a further 11% don't foresee a need to reduce their spending in any areas. The combined data demonstrates just how important the On Premise is to consumers, and how regular going out, plus treat and event-led occasions, remains a priority.
Looking ahead, On Premise visitation continues to have a positive outlook as half of consumers are planning to visit bars, pubs and restaurants during the week ahead, and 9 in 10 plan to do so within the next month.
Mitch Stefani, Client Solutions Director – Americas said: "The latest data doesn't shy away from the current challenges the hospitality industry is facing. Despite this, our industry leading research for the channel continues to demonstrate steady growth in footfall with peak visitation taking place throughout the summer, coupling this with our sales reporting shows how the On Premise is set to have a successful summer period."
Tried and trusted within the global BevAl industry, CGA by NIQ's On Premise Impact Reports provide leading data and insights derived from our best-in-class tools. Exploring both consumer and sales data, the reports provide a full view of the On Premise landscape, allowing you to determine the opportunities presented to you within the industry.
To find out more about CGA's Impact Reports, click here to download the information pack, or for a snapshot of the most recent On Premise Impact Report, click here.
Contact Mitch Stefani, Client Solutions Director to discover how CGA by NIQ's solutions can benefit your business – Mitch.x.Stefani@nielseniq.com.