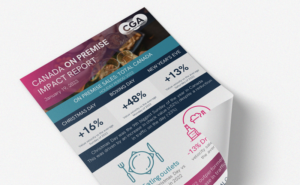 One in five consumers plan to watch the NHL opening week match-ups in the On Premise at bars and restaurants (+5pp vs 2022). As a key sporting event in the calendar, there are plentiful opportunities to keep this consumer group engaged with brands throughout the season. Previous CGA research shows the demonstratable value NHL and Stanley Cup playoffs has on velocity uplifts across the channel.  
Geographically, the appetite for enjoying live NHL action in the On Premise is greatest in Quebec, with 23% of consumers planning to watch in bars and restaurants, followed by British Colombia, Ontario, and in Alberta.  
For brands, this is an optimal time to engage and activate. Beer is topping the league amongst 62% of hockey fans heading out for the opening of the season (+9pp vs 2022), followed by Spirits. Interestingly, alongside Beer, compared to last years' NHL opening week, more consumers will be opting for Tequila as a top category choice (22%, +9pp vs 2022) when watching the games.   
With clear data around consumers' drinking intentions and the sales mix at play for consumption, it demonstrates the value of how important sporting occasions are for the channel. There is an exceptional window for brands and suppliers to work in partnership with operators for optimizing product sales, upselling opportunities, and to boost overall brand equity. 
Mitch Stefani, Client Solutions Director – Americas said: "Overall satisfaction with visits to bars and restaurants remains high amongst Canadian consumers. This reflects a positive foundation for building on success with the NHL opening week match-ups around the corner. It's an ideal time for brands and suppliers to leverage the opportunity a sporting event of this calibre represents, to not only target consumers with strategic promotions, but also to enhance the appeal of the On Premise by amassing brand equity that lasts all season long and beyond." 
CGA by NIQ's Canada On Premise Consumer Pulse Report tracks key metrics in the On Premise and explores hot topics as they arise and explores past, current and projected future channel visitation. To find out more about CGA's consumer research capabilities and regular Impact Reports, click here or contact Mitch Stefani at Mitch.x.Stefani@nielseniq.com