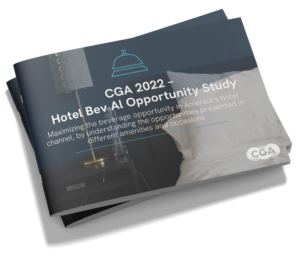 CGA's third 'Hotel Bev Al Opportunity Study' reveals the opportunities presented in different hotel amenities and consumer occasions, and helps suppliers and brand owners build tailored strategies and recommendations to customers across the US hotel market. This research delves into the big visitation trends for the next six to twelve months, explores the behavioral changes that COVID-19 has triggered, and sets out the categories, brands, flavors and serves that different demographics want from their hotels' beverage offering.  
The report comes at a time when travel for pleasure and business is surging back from two years of disruption, and hotels are taking fresh looks at their beverage programming to cater for consumers' changing priorities. 
CGA's exclusive research shows:
Well over four in five (86%) of consumers who anticipate visiting a hotel over the next 12 months plan to do so for a

vacation

—a jump of +9

percentage points from 2020

 
A quarter (25%) anticipate using hotels for overnight

business trips

over the next year—a rise of +4

percentage points

 
Half (48%) plan

non-overnight visits

to hotels in the next 12 months, suggesting consumers are exploring hotel concepts for their offerings and seeking alternatives that stray away from traditional standalone bars and restaurants

 
Among consumers who plan to visit

luxury hotels

, three quarters (75%)

anticipate

visit

ing

their restaurants.

A sizeable

number

of visitors will

use

other amenities like hotel bars (59%), pool bars and restaurants (57%), and casinos (47%).

 
Matthew Crompton, regional Director- North America, said "After two challenging years for domestic and international travel, we will see a steady release of pent-up demand for vacations and business trips in 2022. From budget to luxury brands, there will be some exciting opportunities for beverage suppliers to grow popular brands and establish new ones. However, they will need to work closely with hotel operators to find the right assortment, pricing and promotional strategies. It will be vital to achieve a deep understanding of consumers' post-COVID-19 priorities—and that's where CGA's research can help."
CGA's 'Hotel Bev Al Opportunity Study' is based on a survey of 5,000 visitors to a range of hotel types including around 40 National Hotel Banners, allowing suppliers to directly speak to their customers' customer base when making crucial decisions to support their beverage programming. The research was conducted in March 2022 to achieve the latest insights. 
To learn more about the 'Hotel Bev Al Opportunity Study', and to obtain the full report, click here. 
To discover CGA's full capabilities, including custom deep dives that can support conversations and strategies with hotel partners, please email matthew.crompton@cgastrategy.com.