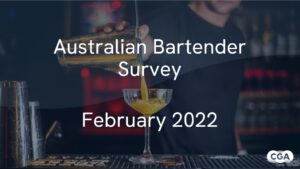 Australia's hospitality industry has been beset with many challenges over the last few years, with the pandemic only exacerbating staffing issues within the sector as borders closed – severely limiting the recruitment pool. However, with borders now fully open, there's good news on the horizon for the sector.  
New CGA research reveals that two in three Australian bartenders see their hospitality career continuing for at least another three years, with 62% feeling optimistic about the future of the industry over the next year, despite the impact that COVID-19 has had on job satisfaction.  
The custom research conducted by the global hospitality insights leaders also highlighted which factors will be important to Australian hospitality staff to increase job satisfaction, with 94% of bartenders agreeing that a good salary, creativity and the ability to provide guests with good experiences are all key.  
Training is seen as integral to bartenders for the advancement of their long-term ambitions and careers in the industry, as they feel it boosts their knowledge and confidence. However, training also makes bartenders more likely to make brand recommendations to customers – a key opportunity for drinks suppliers to influence menu design and increase advocacy amongst hospitality staff. 
Relationships between suppliers and hospitality venues are also beneficial for brands – with 61% of bartenders expecting brands supporting the hospitality industry to thrive in 2022. 45% of bartenders agree that good relationships with distributors and suppliers also increases the likelihood of brands being stocked in venues, supported by almost half of bartenders who could see a lack of supplier support leading to a de-listing of the brand from their bar.  
Supplier relationships are also key to attracting patrons. Over one in three bartenders predict sponsorships to be amongst the most effective ways to attract consumers in 2022, with sponsored specials nights, sponsored samples/tastings and sponsored activity nights ranking in the top 4. Whilst 63% of bartenders suggest sponsored events/programs are preferred, sponsored 'turn key' events (i.e glass giveaway) are also popular amongst 37% of bartenders.  
CGA's managing director, Americas and Asia Pacific, Scott Elliott said: "Now is the time for suppliers to support bartenders and hospitality professionals. Focusing on areas where further support is needed, such as career development, will ensure that bartenders not only stay in the industry but also become long-term advocates for those brands that develop strong working relationships with hospitality staff."  
To learn more about CGA's custom research capabilities across Australia and New Zealand, contact Scott Elliott at scott.elliott@cgastrategy.com