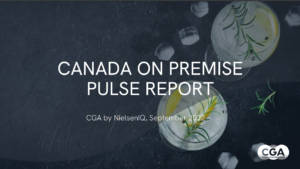 In the past month, 86% of consumers have visited the On Premise for food-led occasions, 2 percentage points higher than last month, and 35% have done so for drink-led occasions. Over half of these consumers' last trip to the On Premise was within the past week. 1 in 3 visited the On Premise the same number of times in the past month and two-thirds have visited 3 or more times in the past 3 months.
56% of Canadian consumers are excited for future visits to the On Premise, which highlights the importance of this channel. This is also promising for drinks brands, given the On Premise is a key channel for brand and category trial and experimentation. Over half of consumers in Canada first tried their favourite drink in a bar or restaurant, and the same percentage enjoy trying new drinks in venues.
Conversely, in the Off Premise consumers tend to choose brands that are familiar to them rather than experimenting – and are more likely to choose options that offer value or that are discounted. Only 12% are buying premium brands in stores – highlighting that premium brands should look to the On Premise channel to drive trial of their offerings as this can help build loyalty and shape consumer decision making in the Off Premise.
Matthew Crompton

Matthew Crompton, CGA Regional Director – North America, said: "Although the cost of living crisis has shaped some consumer behaviours in the On Premise, it's clear that Canadian consumers still plan to prioritise the channel when it comes to their discretionary spend. The On Premise is crucial when it comes to consumer trial and experimentation of drinks categories and brands, and these behaviours also inform purchasing decisions in the Off Premise, highlighting just how important the channel continues to be for suppliers in building awareness, brand equity and customer loyalty."
Looking ahead to next month, 85% of consumers in Canada plan to visit the On Premise within the next month for food-led occasions, while 37% plan to visit for drink-led visits. Over a third of consumers expect to spend more on future visits to bars and restaurants, suggesting a strong appetite to continue patronising the On Premise despite rising prices. Even if their disposable income decreases, just under 1 in 4 consumers in Canada also plan to prioritise their future spending on regular visits to bars and restaurants – demonstrating that the On Premise is a key element of many consumers' lives.
The Consumer On Premise Impact Report is a consumer research report tracking and reflecting on how consumers currently feel about the On Premise, and how the sector can position its offering to increase visitation. The latest On Premise Impact Report by CGA, along with other special reports issued over the past several weeks, can be found here
For more information and support please contact Matthew Crompton at Matthew.Crompton@cgastrategy.com