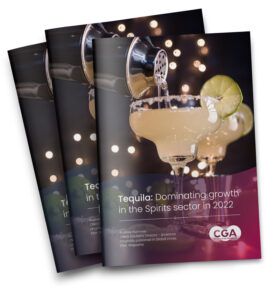 Tequila is one of the most popular Spirits globally, but it's in North America where it truly excels, with its popularity growing significantly in recent years. Over time the category has evolved to meet different tastes and preferences, and now in 2022 it's clear that Tequila may start to challenge Whiskey and Vodka – with its growth outpacing its counterparts in more than one price tier.
Stealing share from Whiskey and Vodka
While Spirits as a category has continued to take share from its counterparts in Beer and Wine, there are some small shifts coming from within Spirits that are worth spotlighting. In terms of raw volume sales, Whiskey and Vodka continue to be the two dominant subgroups within Spirits, with the two combining to make up more than 51% of the total Spirits category in the On Premise. Year-to-date, Whiskey accounts for 26% and Vodka 25% respectively. Tequila, while representing 18% of the category YTD, is the only Spirit subcategory that has achieved growth of share over 1%.
Tequila's growth in popularity with the US consumer
The preferences of US consumers in the On Premise reveals some of the reasons for Tequila's apparent success. Specifically, it would be remiss to not mention the ubiquitous Margarita as a perennial #1 Cocktail across categories as reported by CGA's OPUS survey. This is supported by BeverageTrak data, which highlights that the Margarita is the most popular cocktail by value velocity for 43 of the 48 US states within the cocktail read.
While the base of a margarita is (nearly) always Tequila, there are near-endless opportunities for selecting a variety of fruit flavors, mixers, and the tantalizing option to trade up to premium or "Cadillac", giving the drink a more customizable experience over other familiar cocktails.
Premiumization in Tequila
Premiumization is driving consumers to "trade up" in their preferred drinking categories and is also providing new serve style and occasion opportunities with Tequila. While nearly 50% of Tequila drinkers prefer the spirit in a Cocktail as their first choice in serve style and 42% prefer a Tequila shot, 20% prefer a "neat" pour. What this shows, alongside the Ultra and Super Premium price tier growth, is an expansion of Tequila from its most recognizable serves into new occasions. Though Añejo and Reposado aren't excluded as potential picks for a Margarita or Shot, they can be commonly associated with more of a "sipping" occasion, popular in Premium Cocktail Bars for example.
Get in touch with Andrew Hummel, Client Solutions Director – Americas, to learn more or click here to download the full Tequila report.