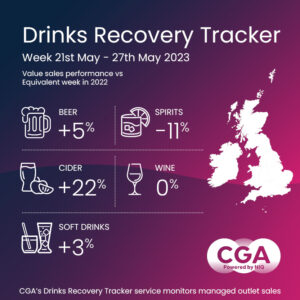 CGA by NIQ's latest Drinks Recovery Tracker shows trading at Britain's managed pubs and bars in the week to last Saturday (27 May) finished 2% ahead of the same week in 2022—down slightly from 5% in the previous week but completing a solid May for operators and suppliers. 
Last week was bookended by an 8% dip in sales on both Sunday (21 May) and Saturday (27 May). But all five weekdays were in growth, and trading peaked at +20% and +21% on Monday and Wednesday (22 and 24 May) on the back of high temperatures that lured people out to drink in pub and bar gardens and terraces.  
Category-wise, the Drinks Recovery Tracker showed strong growth for cider (up 22%), which always benefits from warmer weather. Beer (up 5%) and soft drinks (+3%) recorded solid growth, but wine (up 0.2%) and spirits (down 11%) were weaker. 
"A fifth consecutive week of year-on-year growth is another encouraging sign for the On Premise as we move into the key summer months, says Jonathan Jones, CGA's managing director, UK and Ireland. "Nevertheless, operators continue to face strong headwinds of high inflation, increased cost-of-living and rail strikes in June, so whilst there is opportunity in the market, challenges remain as well."
CGA's Drinks Recovery Tracker monitors managed outlet sales of the drinking-out market, providing category, supplier and brand rate of sale performance. Suppliers and operators that want to track the recovery of drinks sales, benchmark performance or identify changes in trends and consumer preferences should contact jonathan.jones@cgastrategy.com.