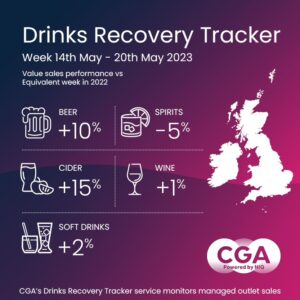 CGA by NIQ's Drinks Recovery Tracker shows a 5% increase in sales in managed venues in the week to last Saturday (20 May), against the same week last year. Trading peaked on Sunday (14 May), when warm weather lifted sales by 18%, and it was ahead by between 1% and 7% on every other day except Tuesday (16 May; down 8%), which had a tough comparative in 2022.  
The solid week continues a strong April and May for drinks sales, thanks in part to a succession of Bank Holidays including one for the King's Coronation. Trading is also in line with data from the Coffer CGA Business Tracker, which showed managed groups achieved 6.9% year-on-year growth in total sales in April. 
With more sunny weather forecast for the upcoming Bank Holiday weekend, sales momentum should continue for a while. However, after adjustments for high inflation—which stood at 8.7% in April, according to the ONS—sales remain behind the levels of 2022 in real terms. 
The Drinks Recovery Tracker's breakdown of sales by category showed beer (up 10%) and cider (up 15%) performed best last week—as is usually the case in warm weather. Soft drinks (up 2%) and wine (up 1%) were ahead too, but spirits sales were 5% behind last year.  
Last week's trading patterns gave us another reminder of how warm weather boosts pubs and bars—especially ones with outdoor space," says Jonathan Jones, CGA's managing director, UK and Ireland. "Continued high temperatures should help to round off a good May for sales, and drink-led venues will be keeping everything crossed for a similarly bright summer."
CGA's Drinks Recovery Tracker monitors managed outlet sales of the drinking-out market, providing category, supplier and brand rate of sale performance. Suppliers and operators that want to track the recovery of drinks sales, benchmark performance or identify changes in trends and consumer preferences should contact jonathan.jones@cgastrategy.com.