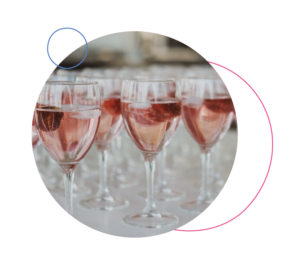 Demand is particularly strong in wine, where rosé has been a standout category in recent years. While sales in many wine segments have struggled to build back from the COVID-19 pandemic—partly because older drinkers were relatively slow to return to pubs, bars and restaurants—rosé has been a solid performer. CGA by NIQ's On Premise Measurement (OPM) tool shows its sales were worth £57.0m in the last quarter—up by 4.9% year-on-year. This growth has easily outpaced major categories like red and still white wine, and it means rosé now attracts 9.5% of total wine sales by value. 
Rosé has also substantially deepened its market penetration. It is now stocked in 81,606 outlets—a small year-on-year increase despite the contraction in licensed premises in Britain over the last 12 months. Improved visibility has helped to attract new drinkers, and research for CGA's Wine Insight Reports showed that two in five (39%) consumers are now aware of pink prosecco—one of the biggest winners of all in the pink market. 
CGA's research also spotlights the channels with the biggest potential for rosé brands. Hotels, where year-on-year sales growth has been even higher at 9.1%, is a particularly attractive segment. Rosé drinkers are also six percentage points more likely than the average wine consumer to visit bars, and five percentage points more likely to use nightclubs and formal dining restaurants. Rosé is often associated with drinking occasions, but with four in five (81%) of its drinkers typically drinking wine on food-led visits, there's plenty of scope to increase its appeal alongside meals in pubs and restaurants. 
"It's been a tough couple of years for wine in the On Premise, but rosé has been a star performer," says Matthew Meek, senior client manager at CGA by NIQ. "It's a versatile category that appeals across a broad range of channels and drinking occasions—and because it appeals to younger drinkers in particular it can be a useful gateway into wine that will hopefully lead consumers to try new varietals and brands in the future."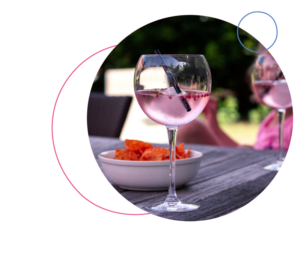 Sales trends in pink gin are less positive, but it has nevertheless become an established part of the spirits category. CGA's OPM shows its sales were worth £81.3m over the last quarter, down by 18.1% year-on-year. This is part of a longer term shift away from gin following the pre-COVID boom years, with share stolen by other spirits, especially rum. But pink gin still accounts for 26.4% of all gin sales by value, and it is now stocked in 81,586 outlets—0.9% more than a year ago. 
In both wine and gin, pink has an obvious visual appeal, with the all-important 'Instagrammability' among younger generations. Because of this, serve is a crucial factor in purchasing decisions, and the challenge here is to innovate and stand apart from the crowd. Pink drinks are also closely associated in many consumers' minds with celebratory occasions, and Pink Prosecco's accessibility and relatively low price points make it a popular choice among 20 and 30-something drinkers.  
Pink has another big role to play in cocktails, and there is untapped potential here. While some mixed drinks like the Pink Gin Fizz and Pink Lady are now familiar, CGA's research shows that others including the Paloma are still less well known. By putting pink twists on popular cocktails like the Margarita, Martini or Cosmopolitan, there is a chance to attract consumers who like rosé and want their mixed drinks to be photogenic. 
"It wasn't so long ago that pink drinks were out of fashion, but there's been an impressive revival," says Matthew Meek. "The summer months are ideal for attracting drinkers seeking refreshment, and high quality serves and activations can tempt them away from more traditional warm-weather choices. But in a competitive market where spending is under severe pressure, suppliers and operators will need to achieve a deep understanding of consumers' very latest drinking habits and priorities if they are to take advantage." 
CGA by NIQ's unique fusion of sales and consumer research helps suppliers and operators respond nimbly to trends in all On Premise drinks categories. To learn more, visit www.cgastrategy.com and email Matthew Meek at matthew.meek@nielseniq.com.    
Originally published in Global Drinks Intel Magazine