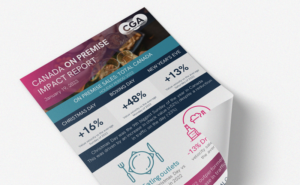 CGA by NIQ's latest Canada Consumer Pulse Report explores the relationship between food and drink in the On Premise and how different food types can influence consumers' drinks choice.
It's been a positive month for the Canadian On Premise as 92% of consumers visited over the past month, with 4 in 5 consumers visiting for food-led occasions and nearly 2 in 5 visiting for drink-led occasions. The outlook for the month ahead looks positive, with 9 in 10 planning to visit in April.
As food-led occasions continue to lead visits to the On Premise, the Report explores drinks opportunities during food-led visits, and the influence food choice has on the drinks chosen to accompany consumer's meals.
3 in 5 consumers strongly agreed/agree that the food they're eating on a visit influence what they choose to drink, showing the need for operators and suppliers to carefully think about the types of food they're serving and what drinks would best complement each dish.
Guiding consumers in the direction of drinks that pair best with their dishes, may influence that drinks decision further. A proportion of consumers (45%) strongly agree/agreed that if the menu provided drinks suggestions based on food items, they would be more likely to try them.
The report also explores in detail the proportion of consumers that switch between drink categories during their visits, quantifying the experimental nature the On Premise channel has on consumer choice. While this is evident with drinking occasions, food led occasions remain equally as important using food items and different cuisine pairings to influence drink choice.
This willingness of consumers altering their drinks choice to better compliment the food type highlights the opportunities for operators to get creative in their offerings to build equity with their patrons.
Mitch Stefani, Client Solutions Director – North America said "While consumers are traditionally experimental in their choices for drinks when out, food pairings and offerings built around occasion bring the unique opportunities and experiences that consumers are seeking on visits."
CGA by NIQ's On Premise User Survey (OPUS) will be the latest, robust dataset assessing consumer preferences specifically in bars and restaurants tackling path to purchase behaviours, category and brand consumption, in-outlet trends and will deep-dive into these essential insights and provide actionable learnings to tailor On Premise strategies.
CGA's On Premise Consumer Impact Report tracks current behaviour among On Premise visitors. To find out more about the full subscription of reports, including analytics, download more information here, download the latest snapshot here, or email Mitch Stefani, Client Solutions Director – Americas at Mitch.Stefani@cgastrategy.com.