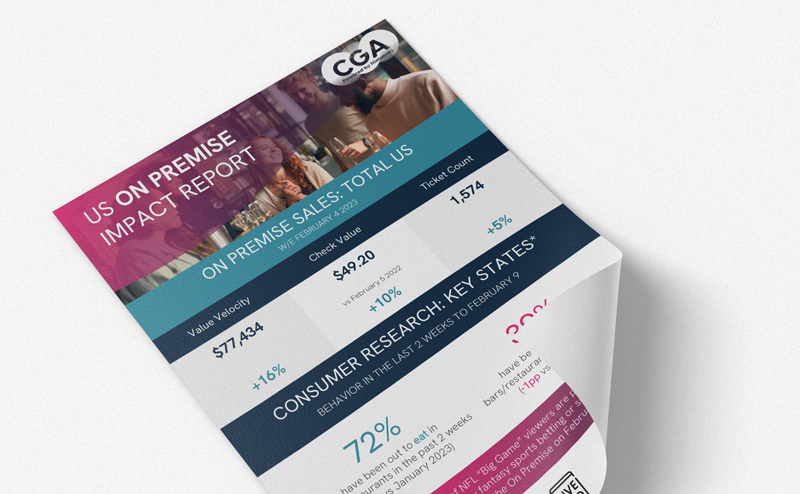 Spring is in the air and having an optimistic impact on consumer behavior in the On Premise, with 38% of people planning to visit bars and restaurants more often than usual (+5pp vs March 2023).
It's clear that well-supported occasions on the annual calendar are contributing to this welcome surge, which almost two thirds of consumers visiting the On Premise in the past week, and 3 in 5 eager to revisit in the next week.
An enduring affection for St Patrick's Day means it continues to rank highly as a central seasonal BevAl category growth driver.
What's more, peer pressure and fear of missing out causes a ripple effect on well-liked occasions such as St Patrick's Day. 40% of consumers visited a bar or restaurant to celebrate, which is actually up +7pp from those who expected to visit. This ratio is even higher amongst 21-34 years old, with +10pp more visiting the On Premise than those who originally planned to.
In addition, March Madness returned a winning result for the On Premise, with 51% of 21-34 year old consumers visiting bars and restaurants, and 35% of all consumers watching in the channel. Sports Bars (58%) were the most popular venue type, followed by Neighborhood Bars (34%) and Casual Dining Restaurants (30%).
Bespoke drinks promotions made significant contributions to On Premise sales during both occasions. 67% of On Premise visitors on St Patrick's Day bought drinks that were specifically offered and marketed for the occasion, with 64% of March Madness visitors showing similar enthusiasm for tailored promotions.
In category terms, Wine is a compelling success story, due to increased appetite amongst On Premise visitors during the Spring (42%) and Summer (50%). Many Sparkling Wine and Cocktails drinkers are quenching their thirst with this season's hero sparkling cocktail, the Mimosa (63%). Whilst New York hipsters are relishing their Negroni Sbagliato's (23%) vs. just 14% consuming this up-to-the-minute cocktail nationally.
Overall, there is plenty to put a spring in the step of drinks brands that can successfully target occasion-led promotional strategies with the right operational partners, and  leverage the most sought-after drinks appealing to consumers on a seasonal basis.
Matthew Crompton

Matthew Crompton, regional director – North America, said: "With the Spring season well underway and Summer just around the corner, it's a pivotal moment for drinks brands to harness the occasions that drive consumers to the On Premise, by addressing any gaps in their promotional strategies for the remainder of 2023. Plus, the latest analytics reveal consumers are open to seasonal influences in category channels, with windows of opportunity in more niche subcategories, besides the most eminent ones."
Delving into consumer research, sales data, and using channel strategy research, CGA by NIQ's new US Consumer Pulse Report tracks key metrics in the On Premise and explores hot topics as they arise. Click here to download more information, or get in touch with Matthew Crompton – matthew.crompton@nielseniq.com