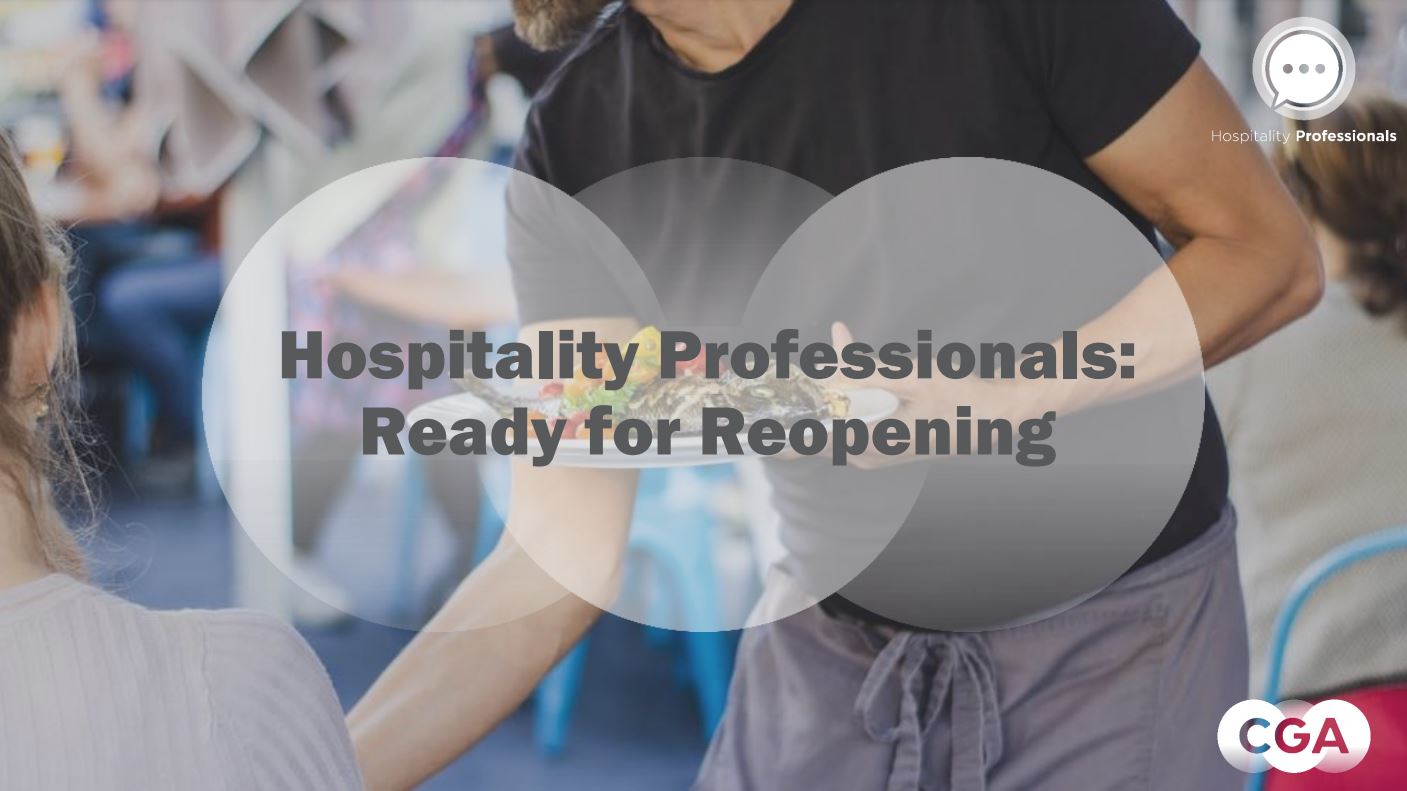 Hospitality teams will return to the frontline with renewed confidence about safety and the future of the sector—but employers will have to work hard to keep them well and motivated.
Those are the messages from a new survey by CGA and CPL Learning of the Hospitality Professionals panel, a group of more than 150 people working in front and back of house roles that provides crucial perspectives on the industry.
The research suggests the COVID vaccination programme and the government's roadmap have lifted professionals' moods ahead of reopening. Three quarters (76%) say they feel confident about returning to work, with 'motivated', 'excited' and 'hopeful' the three words most used to describe their sentiments. Professionals are most looking forward to interacting with customers and colleagues again.
Confidence about reopening has boosted professionals' optimism for their industry. Nearly three quarters (72%) of team members are now optimistic about the long term future of hospitality—double the number (36%) who felt that way in the October edition of the Hospitality Professionals survey. The number feeling concerned about their long term job security has meanwhile dipped by seven percentage points.
The positive numbers echo CGA research showing a sharp increase in business leaders' long-term optimism, and widespread consumer confidence about going out to eat and drink.
But the Hospitality Professionals survey also provides reminders that employers will need to manage teams carefully when venues reopen. Just over half (54%) admit to at least a little apprehension about returning, and respondents cite mental and physical wellbeing and regular communication as their top priorities in the short term.
In the longer run, employee engagement needs to focus on cultivating the right culture and delivering good learning, development and career progression strategies. Lockdown appears to have sharpened people's focus on development, and more than three quarters (78%) of professionals say they have actively looked for for ways to work on their personal or professional development during the lockdown, while a third (33%) have felt more motivated to complete courses.
Professionals have been generally happy with levels of engagement from their businesses over lockdown, though those feeling satisfied about financial support (65%) and mental health support (62%) are notably higher than those satisfied with professional development support (54%).
The survey also flags social media as an increasingly important source of support. More than half (54%) of professionals now use it to find industry initiatives available to them—more than the number using employer communications to do so (42%).
Reassuring and motivating teams is going to be absolutely crucial to a smooth reopening, and our Hospitality Professionals panel provides an excellent guide to the needs of teams," says Chloe Sheerin, consumer research executive at CGA. "All our research shows that investment in wellbeing, training and preparation is repaid many times over through greater staff loyalty and customer satisfaction, and while there is lots for operators to think about at the moment, keeping staff safe and happy will need to be very high up the list of priorities in the weeks ahead."
The survey from CGA and CPL Learning was conducted in January and February 2021. The Hospitality Professionals panel provides in-depth insights into people's experiences at work and can support the strategies of all businesses across hospitality. To learn more, email chloe.sheerin@cga.co.uk