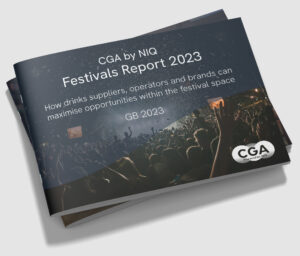 Overall, 56% of festival-goers care more about the overall environmental, social and sustainability impact of festivals than they did last year. When choosing which festivals to attend this year, 7 in 10 festival-goers think the promotion of environmental sustainability is a "major factor" or "quite important" emphasising the extent to which sustainability is front of mind for 2023 festival–goers.  
There's an expectation that festivals should actively look to minimise the negative impacts they have on the environment. An overwhelming 81% of festival-goers expect all the festivals that they attend to tackle environmental impacts generated, with a similar volume expressing concern about the wastage associated with festivals.  
26% of festival-goers believe a reduction of single use plastics should be a priority at festivals. Yet, festival-goers are also taking responsibility for what they can do to help, in addition to placing an onus on festivals to implement sustainable initiatives. As a result, 1 in 2 festival-goers purchased and used refillable plastic cups when at festivals, and over a quarter bought food onsite from plant based or sustainable food vendors.  
Festival-goers are undoubtably passionate about visiting festivals, with two thirds making time for more than one a year. With higher monthly income and spend in the On Premise, festival-going demographics are an affluent group with disposable income to spend both before and during festivals. Coupled with higher expectations in terms of environmental friendliness, festivals continue to represent a premium opportunity for brands to optimise sales and build equity.
Lou Finn CGA by NIQ consumer research executive said: "The research underlines festival-goers are enormously passionate about sustainability, and there's an expectation that festivals will do their best to offset their carbon footprint. To this end, brands shouldn't shy away from shouting about their sustainability credentials, because it's a key selling point in festivalgoer's eyes."
CGA's 'Festivals Report' draws on an extensive survey of festival consumers and has a host of insights into current attitudes to live events. For more consumer insights looking into the festival landscape and the opportunities presented, click here or contact Lou Finn at lou.finn@nielseniq.com.