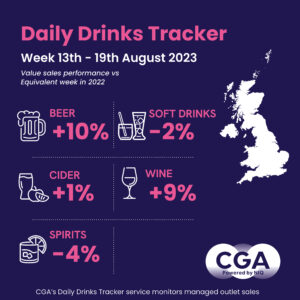 CGA by NIQ's Daily Drinks Tracker shows average sales in managed venues in the week to Saturday (19 August) were 5% ahead of the same period last year. The return to growth follows a challenging late July and early August, when cool weather kept many consumers away from pubs' beer gardens and terraces.
However, trading improved in line with the temperatures last week. There was a particular surge in sales in midweek, with Tuesday (up 10%), Wednesday, which was boosted by England's semi-final victory over Australia (up 17%), and Thursday (up 15%) all in double-digit growth—but trading was more modest on Friday (down 3%) and Saturday (up 4%) as rain moved back in.  
Warmer weather lifted the beer category, where sales rose 10% year-on-year. Wine (up 9%) and cider (up 1%) were also positive, but soft drinks (down 2%) and spirits (down 4%) were both negative.
"After weeks of dismal weather driving declines, operators and suppliers will have been relieved to see some sunshine and a return to positive year-on-year sales performance." says Jonathan Jones, CGA's managing director, UK and Ireland. "With more rail strikes looming, they will be hoping that good weather persists for the rest of the month and into September to help offset a disappointing July and early August, but also need to work on driving footfall in other ways, with a focus on quality and experience for their customers." 
The Daily Drinks Tracker provides analysis of sales at managed licensed premises across Britain, and is part of CGA by NIQ's suite of research services delivering in-depth data on category, supplier and brand rate of sale performance. To learn more, click here and email Jonathan.Jones@nielseniq.com.