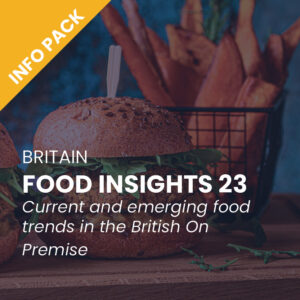 The report—based on an in-depth survey of 2,000 consumers and packed with expert analysis of key food trends—shows that 64% of Britain's consumers now think it is important to know the nutritional content of their meals out of home. With 45% considering it more important to them than last year, it is clearly a fast-growing concern.
The trend challenges restaurants, pubs and other eating-out venues to supply accurate and useful information to guests. But while nutritional data about calories, sugar, fat and salt content is now common, the 'Food Insights Report' indicates that there is mounting interest in other elements like vitamins and protein. There is particularly high demand from parents, 67% of whom would like to see the protein, sugar, salt and vitamin content of dishes added to menus.
The 'Food Insights Report' also shows how menus can improve the positioning of vegetarian or vegan dishes. More than half of all consumers (52%)—and nearly two thirds of younger adults (63%)—say they want to reduce their meat consumption, and three in five are more likely to order a meal with reduced animal products if they can choose items to substitute, for example a meat free burger patty with dairy cheese.
CGA's new report delivers many more actionable insights into mindful consumers' habits and preferences, plus deep dives into food trends and the channels, occasions, times and spends of consumers' visits to the On Premise. It helps businesses respond to these developments with winning menus and promotional strategies that keep them ahead of the competition and maximise guest spend.
James Ashurst, CGA's client director – foodservice, says: "Interest in wellbeing surged during the COVID-19 pandemic, and it shows no sign of slowing. Many consumers now expect food businesses to be able to provide the nutritional information they want in order to support their healthy lifestyles, and venues that don't deliver risk falling behind competitors. Understanding exactly what these mindful consumers want is crucial, and our report provides the tools that are needed to optimise menus and maximise spend."
The full 'Food Insights Report' is available now. It is priced at £1,645 + VAT, and discounts are available for multiple reports in the series—including research dedicated to snacking, calorie information, and hot beverages. To learn more, click here and email James Ashurst at james.ashurst@nielseniq.com