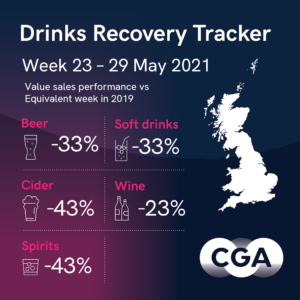 CGA's latest Drinks Recovery Tracker shows that like-for-like average sales were up by 41% on Sunday (30 May) from the equivalent day in 2019, and by 55% on Monday (31 May).
The bumper two days were particularly welcome for bars, where year-on-year drinks sales jumped 105% on Sunday and 23% on Monday. Beer gardens helped to make it a strong weekend for pubs (up 40% on Sunday and 60% on Monday), with restaurants (up 30% on Sunday and 55% on Monday) slightly behind.
However, some caution is needed with the numbers, as Sunday and Monday's trading compares to days in 2019 that did not fall in the Bank Holiday weekend. With around a quarter of licensed premises still closed, total drinks sales have been running well below pre-pandemic levels.
The strong Bank Holiday weekend also followed relatively modest trading in the second full week since hospitality was able to trade inside on 17 May. Average drinks sales from Sunday to Saturday (23 to 29 May) were down by 35%, despite the gradual warming of the weather—though the period lapped the Bank Holiday weekend of 2019, and sales on Saturday were hit by some football fans staying at home to watch the Champions League Final.
"Sunshine and Bank Holidays are a powerful cocktail for pubs, bars and restaurants, and it was good to see such buoyant trading over the long weekend," says Jonathan Jones, CGA's managing director, UK and Ireland. "Good weather in the half-term week for schools should bring more decent trading, but we shouldn't forget that the sector is still a long way off where it was before COVID-19. Distancing limits and the enforced closure of large parts of the drinking-out market mean many businesses remain vulnerable, and it is crucial that the remaining restrictions are lifted as scheduled on 21 June."
CGA's breakdown of drinks sales by category shows that spirits felt the biggest benefit over the Bank Holiday period. With cocktails popular in the warm weather, spirits sales rose 133% on Sunday and 84% on Monday. Cider (up 51% and 89%), beer (up 29% and 34%) and wine (up 38% and 43%) all gained too, though growth in soft drinks was more modest at 5% on Saturday, but saw a significant boost of 104% on Monday.
CGA's data also shows the ongoing impact of restrictions in parts of Scotland. Across the Sunday-to-Saturday week, Scotland's drinks sales were down 38%, compared to 31% in England and 35% in Wales.
CGA's Drinks Recovery Tracker service measures drinks category, supplier and brand rate of sale performance versus pre-COVID-19 sales. Daily data is reported within three days. Suppliers and operators that want to track the recovery of drinks sales, benchmark performance against the competition or identify changes in trends and consumer preferences should contact, jonathan.jones@cgastrategy.com.