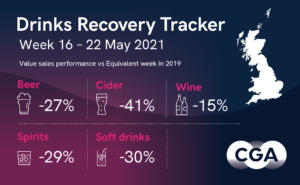 CGA's Drinks Recovery Tracker shows that like-for-like average sales on Friday, Saturday and Sunday (21 to 23 May) were down by 31%, 21% and 53% on the equivalent three days in 2019.
The modest performance is partly due to tough comparatives, with the equivalent period in May 2019 falling on a Bank Holiday weekend. Sales were also held down by widespread poor weather last weekend, which will have discouraged some consumers from venturing out, even though they are now able to sit inside.
It completed a modest first week of indoor trading, following a 13% increase in drinks sales on the first day back (Monday 17 May) but drops of 17%, 12% and 34% on Tuesday, Wednesday and Thursday (18 to 20 May). Across the whole week, drinks sales were significantly up on the last few weeks of outdoor-only trading, but 27% down on the same week in 2019.
The freedom to eat indoors led to the best week of drinks sales of the year for restaurants, where turnover was 26% down on 2019. There was the same drop (26%) in pubs, while bars' sales were 39% behind.
The rise in food-led occasions made it a good week for wine, sales of which were down 15%. Beer (down 27%), spirits (down 29%) and soft drinks (down 30%) all lagged further behind.
CGA's Drinks Recovery Tracker also shows the impact of continuing restrictions in parts of Scotland. Drinks sales here last week were down by 33%, compared to 27% and 21% in England and Wales respectively.
"Last week's return of inside drinks service was very welcome, but while sales are rebounding we are still a long way off normal May levels," says Jonathan Jones, CGA's managing director, UK and Ireland. "We know that some consumers remain anxious about safety, and COVID-19 constraints continue to make it hard for many venues to trade profitably—or to open at all. If restrictions can be lifted in June as planned and the weather picks up, operators and drinks suppliers can still hope for a good summer, but the market's recovery is going to be steady rather than spectacular."
CGA's sales and opening research will be the leading sources of market intelligence as the On Premise continues its return to trading. To learn more about how CGA's data and insights can support the strategies of all operators and suppliers, please contact jonathan.jones@cgastrategy.com.