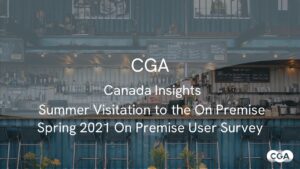 Consumers are ready to return to the On Premise as summer approaches and outdoor space remains an important factor influencing consumers visitation to restaurants and bars, CGA's On Premise User Study reveals.
Younger consumers driving weekly On Premise visits  
As restrictions start to ease across the country, demand for consumer visits to the On Premise is paramount. CGA's latest consumer research indicates 29% of consumers are planning to visit the On Premise weekly once restrictions are lifted. Great weather, outdoor dining, and the continuation of vaccine rollouts are all positive factors driving this demand as consumers return to their favorite places to eat and drink.   
There is a significant increase in weekly visits from 18-34's, with 41% stating they will be visiting the On Premise weekly. It's important to understand this behaviour – CGA research across global markets suggests that weekly visits among consumers may start to result in higher frequency of visitation per week. 20% of weekly drinkers in Canada say they plan to visit the channel more than they did pre-COVID-19.   
Outdoor space remains important as consumers return 
Hospitality outlets have adapted to host consumers in outdoor areas during COVID-19. On a scale of 1-10, a score of 7.9 was recorded for On Premise visitors stating the importance of having an outdoor patio when visiting the On Premise. When asked about how consumers would feel about revisiting the On Premise, 34% of consumers who are more cautious would visit outlets with outdoor patios weekly compared to 38% of consumers with no concerns at all. 
The research shows 72% of consumers say they would still visit a bar/restaurant if it did not have an outdoor patio. While there is a clear appetite to get back into the On Premise, outdoor space remains an important factor which can impact consumer visitation over the summer period.  
Opportunities to capture consumer demand and spend  
With restrictions and guidelines having the potential to make drinking occasions difficult to host in reopening stages, outlets that support the eating occasion can reap the benefits of this initial early footfall.  
63% of consumers state they would feel comfortable visiting Casual Dining Chains upon the reopening. While high, it is notable that 48% of 18–34-year-olds intend to visit the channel less frequently compared to older age groups.    
CGA's research from the U.S. has shown as restrictions ease and capacity occupancy grows, the shift to drink-led channels such as Neighborhood Bars and Pubs will be plentiful. 30% of consumers state they will feel comfortable visiting Neighborhood Bars upon their return, and the 'support local' behaviours that has been expressed among consumers will likely drive this.  
Mitch Stefani, Client Solutions Manager, Americas said: "The Canadian On Premise is just starting to ramp back up, and the demand from consumers to make their way back to the channel will be high. As consumers step foot into their favorite places over the summer months, unlocking these insights will be imperative to meeting new consumer demands on-site and delivering a successful reopening strategy". 
CGA will continue to dive into analysis of understanding changing consumers' wants and needs from a drinks offering, and how these behaviors have changed from pre-COVID-19. 
To learn more about CGA's consumer reporting and how it can help suppliers and operators understand the demands and habits of target consumers in the reopening of the On Premise, please contact Mitch Stefani at mitch.stefani@cgastrategy.com