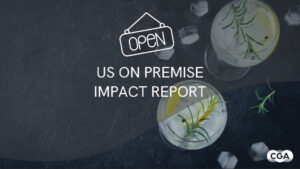 CGA by NielsenIQ's US Consumer Pulse Report surveyed 1,200 participants about planned visitation and behaviors during this key sporting occasion. Out of those surveyed, 1 in 5 said they plan on visiting the On Premise to watch the FIFA World Cup 2022.  
Over half of consumers said they'll choose to watch the World Cup in Sports Bars (52%) – making this the clear favorite venue choice, compared to Neighborhood bars (29%), Cocktail Bars (28%) and BrewPub/Tap rooms (23%). 
In CGA's recent report – Sports Betting: exploring the US On Premise opportunity, 59% of consumers said they had or would participate in sports betting in Sports bars, with Neighborhood bars ranking in second place – with this venue type also ranking highly as a preferred venue to watch the World Cup. 
86% of consumers said they plan to continue watching the World Cup even if the USA gets knocked out, with over half choosing to continue watching simply because they enjoy the sport. From CGA's Sports Betting report, Soccer ranked the third most popular sport to watch while visiting the On Premise amongst 21–34-year-olds, with 36% saying they had or would bet on a Soccer match. With over a third of 21-34 years olds planning on watching the World Cup in the On Premise, this highlights a huge opportunity to target this consumer segment for those venues with a sports betting offering.  
The report also found that consumers are likely to stay at venues longer when betting on sports, and participation is also likely to drive higher consumption. This shows that those venues that both show the World Cup and offer sports betting, have the potential to increase revenue throughout the duration of the competition.  
Matthew Crompton, CGA by NielsenIQ regional director said – "The insights from the latest Consumer Pulse Report combined with 'Sports Betting: exploring the US On Premise opportunity' research shows a huge opportunity during the FIFA World Cup 2022 for venues that offer sports betting vs venues that don't. With the appeal of sports betting in the On Premise being clear, venues and suppliers should be considering the significant opportunities to increase revenue and visitation during this key sporting event."   
The US Consumer On Premise Impact Report is a consumer research report tracking and reflecting on how consumers currently feel about the On Premise, and how the sector can position its offering to increase visitation. The latest On Premise Impact Report by CGA, along with other special reports issued over the past several weeks, can be found here. 
For more insights into Sports betting opportunities, CGA's Sports Betting Report provides an in-depth look into consumer groups, drink types, channels and key Sports occasions within the US On Premise, download the report here