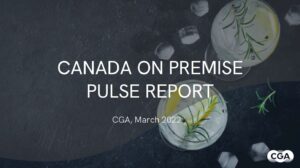 Restrictions to prevent the spread of COVID-19 were lifted across Canada on March 12, allowing all public venues to, once again, operate at 100% capacity. Bars and restaurants are living up to consumer expectations on their return as 59% of consumers have visited the On Premise 3 or more times in the past month. Food-led occasions have been most popular with 83% of consumers having visited a bar or restaurant to eat in the past month (+11pp vs February). Additionally, over 3 in 10 have been out specifically for a drink in the past month, which is +5pp vs February, showing increased engagement with this visit type.
Over the last few weeks, 77% of consumers visited the Canadian On Premise the same amount or more than usual. With seeing increased visitation to the channel vs previous months, a healthy amount of Canadians are also expressing the positive experiences they've had, as 2/3rds acknowledged that their returns after restrictions have lived up to their expectations. When it comes to where consumers are visiting, there is a relative split in leading visitation between causal dining chains (48%) vs Independently owned restaurants (43%), with roughly a quarter visiting Fine dining restaurants (24%) and drink led outlets such as neighbourhood bars (24%) and sports bars (22%).
Beer continues to be the category that consumers engage with the most (49%) with Wine (32%) also being a popular option to cater to the high amount of food led occasions that are taking place
Other offerings that are capturing interest and engagement include both No/low alcoholic offerings (1 in 4 have tried in the last 3 months) and CBD infused drinks (1 in 5 have tried in the last 3 months).
As these categories, alongside RTD's, continue to draw attention to consumers, it will be important to understand their role within On-Premise and what consumers look for most in these offerings. CGA's Upcoming On Premise User survey provides deeper analysis and insight into these emerging drink categories.
Looking ahead, fewer consumers expressed concerns around COVID-19 keeping them away from visiting the On Premise (-12% vs February 2022). In the next month, 87% of consumers plan to go out to eat and 35% of consumers plan to go out to drink. While half plan to visit on weekends, 2 in 5 plan to visit bars and restaurants on weekdays – demonstrating that there are still ample opportunities to target consumers outside of the traditional weekend trading patterns.
Matt Crompton

Matt Crompton, CGA regional director – North America, said "Now that the market is fully open, consumers are excited to get back to the busy atmosphere and experiences that only the On Premise can offer. However, bars and restaurants will continue to need support from their supplier partners around strategic areas such as assortment, pricing and ranging, to maximise consumer visits expected in the near future."
CGA's Canada On Premise Consumer Impact Report is available to download now. It is based on a survey of more than 1,200 consumers over March 10-14, who have visited restaurants, pubs, and bars in Ontario, Alberta, British Columbia, and Quebec.
The report delivers in-depth insights to help suppliers and operators understand current attitudes to the On Premise and identify opportunities to grow market share in 2022. For more information and support please contact Matthew Crompton at Matthew.Crompton@cgastrategy.com