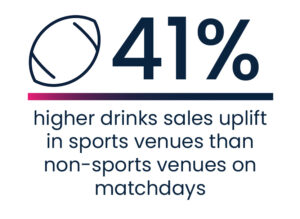 The research shows that average drinks sales uplifts on matchdays were 41% higher in sports venues than in non-sports ones. The figures—based on a comparison of more than 1,000 outlets showing sports with the same number of venues with similar sales patterns that do not—clearly show the value of screening the tournament across the home nations.
The Long Alcoholic Drinks (LAD) category enjoyed the biggest benefit, with the increase in sales 60% higher in sports venues than in non-sports ones. Stout (up 69%) led the upswing and was helped by St Patrick's Day celebrations extending into last weekend. Draft standard lager (up 67%) outpaced both premium lager (up 54%) and world lager (up 26%). Draught cider (up 55%), cask ale (up 46%) and keg ale (up 32%), and packaged sub-categories like cider (up 31%), premium lager (up 72%) and world lager (up 62%) all performed strongly as well.
Spirits were also raised on tournament matchdays, with average sales rising 54% faster in sports venues than in non-sports ones. The effect was particularly positive in golden rum, liqueurs, vodka tequila, shots and shooters, where the sales uplift was more than twice as high as in venues not showing games. American whiskey and gin had smaller but still significant boosts.
With LAD dominating, not all drinks categories felt the benefit of the Six Nations. Cocktail sales' uplift was 14% lower than in non-sports venues, while wine was 28% behind, thanks in large part to a drop in food sales while people focused on the rugby. Soft drinks had an uplift of just 1%.
Paul Bolton, Client Director

CGA's client director Paul Bolton says: "After a very tough end to 2021, the Six Nations helped sports-focused pubs and bars to recover a chunk of lost revenue. It was also a good result for beer, cider and spirits suppliers who approached the tournament with some creative campaigns and activations. With the football World Cup following later in the year, it's hopefully a positive sign of things to come."
CGA's in-depth sales data can help suppliers track the very latest trends in consumers' preferences and the impact of all sporting occasions on sales. Bespoke analysis is available to help pinpoint sales opportunities and position brands. To learn more, email paul.bolton@cgastrategy.com.