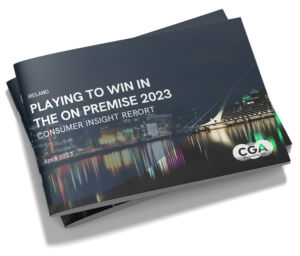 Half of consumers go out in the early evening, making it the most popular time for visits. But there is polarisation in the times of day when consumers are increasing their visits, with early mornings and late nights topping the table as the dayparts to watch.
Unsurprisingly, Saturday is the most popular day of the week for visits, when 2/3 of consumers frequent bars, pubs, restaurants and other venue types. Yet a quarter of consumers are also going out between Monday and Wednesday, representing a significant early week window of opportunity.
So, who is going where, and when? The report reveals these contrasting behaviours are driven by different demographic groups visiting the On Premise for different occasions, making it more important than ever to understand who these consumers are and what's making them tick.
The 18–34-year-old age group are 10% more likely than average to go for a big night out or clubbing, meaning that millennials are over-indexing the most for visits in the late evening. Additionally, they are also a key target group for the mid-week, over-indexing most for visits on a Thursday for a weekend warm up.
35–54-year-olds are driving the popularity of early evening and weekend visits and are more likely than average to go out for family occasions. This group is particularly drawn to visit the On Premise for food led visits, with a hefty 85% going out to eat at least once a month.
The 55 and over group are more likely to go out earlier, to the extent that they're over-indexing for lunch in the On Premise. They are also key to early week trade, demonstrating a 7% greater likelihood than the average consumer to go out between Monday and Wednesday. Again, family occasions are higher than average drivers for these consumers.
What's more, the over 55s age group is most likely to be in the 'high-spending' category in terms of average spend out each month. While their visitation levels are less frequent, it is an interesting proposition for drinks brands and operators to leverage their visits, in order to plug early week gaps and off-peak time slots with highly coveted spends per person.
Sian Brennan, client director – Ireland: "In an ongoing climate of unpredictability, it remains of utmost importance for brands and operators to not only understand the latest consumer preferences, but how and where to influence the various consumer groups. While we know that financial hardships are continuing to be felt by consumers, having a 'bigger picture' overview of the market and the ever-changing perceptions of consumers equips brands and operators to remain agile, maximise opportunities in the present, and stay ahead of the game as the market recovers."
The Ireland Consumer Insight Report offers relevant deep dives and market analysis to inform and develop a consumer led strategy.  It includes the latest leading-edge data, trends and topics in the On Premise channel, enabling brands and operators to optimise marketing and sales strategies. Click here to download more information, or get in touch with Sian Brennan – sian.brennan@nielseniq.com